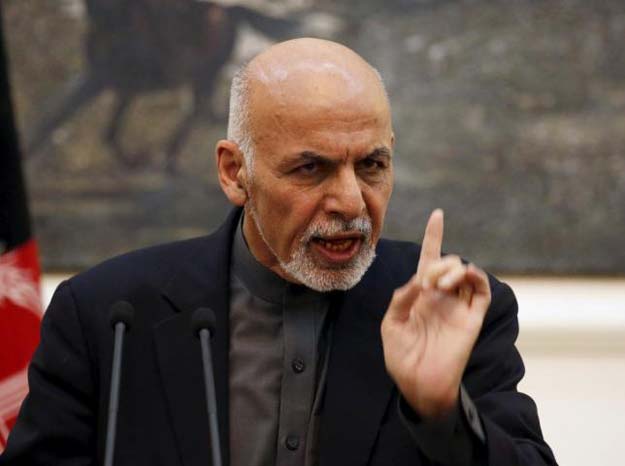 ---
ISLAMABAD: In a major shift in his policy, Afghan President Ashraf Ghani on Monday said Kabul will no longer seek Pakistan's role in the ongoing peace talks with Taliban.

"Pakistan had promised to aid peace talks but we no longer expect Islamabad to bring Afghan Taliban to the negotiating table," Ghani said while addressing a joint session of the Afghan parliament. The Afghan president's rare address to the joint session was aired live on state and private TV channels.

Pakistan hopes to broker Taliban-Kabul talks this month

"We want Pakistan to honour its commitment and take military action against the Afghan Taliban. We want them to handover the Taliban to the Afghan government so we can try them in Sharia courts," Ghani said.

Describing the Taliban as 'ignorant', the Afghan president said there is no difference between good terrorists and bad terrorists and that Pakistan should act as a responsible government. Ghani also labelled the Islamic State, Haqqani network and certain segments of the Taliban as 'enemies' of Afghanistan.

Ghani's comments come as the relationship between the two neighbouring countries deteriorates once again following a deadly attack on Afghan security agency headquarters in Kabul on April 19.

Countries to negotiate for Afghan peace process in mid-January

An Afghan presidential spokesperson accused the Haqqani Network of planning the attack in Pakistan with help from foreign intelligence circles. Afghan Taliban had claimed responsibility for the attack.

Following the Taliban's refusal to join the dialogue, President Ghani has been under pressure to change his policy on peace and reconciliation with the militant group.

Last month, the Taliban refused to sit face-to-face with the government in Kabul under the quadrilateral process of Afghanistan, Pakistan, China and the United States.

Taliban toughen stance on peace talks ahead of quadrilateral meeting

According to reports, China is working with Pakistan and the United States to broker peace talks to end a Taliban insurgency that has raged for 15 years in Afghanistan.

Taliban calls Afghan rulers 'slaves of US'

Meanwhile, expressing anger at Ghani's remarks Taliban described Afghan rulers as "slaves" and said they have been "imposed by John Kerry" on the Afghan people.

"The rulers should face the fate like Dr Najeeb," Taliban spokesperson Zabihullah Mujahid said while referring to public hanging of the Communist leader in 1996.