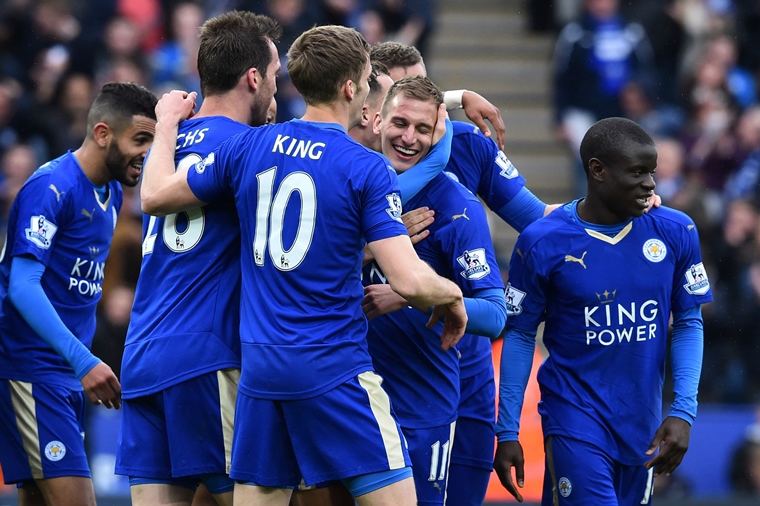 ---
LEICESTER, UK: Leicester City manager Claudio Ranieri has steeled his fairytale-chasing players for a pivotal trip to Manchester United, but believes that there is no match for his team's "heart and soul".

Leicester, who dramatically escaped relegation from the Premier League last season, went eight points clear at the top of the table after crushing Swansea City 4-0 on Sunday and require five points from their last three games to claim the club's first ever championship.

However, Tottenham Hotspur can trim Leicester's lead back to five points by beating West Bromwich Albion on Monday and with United buoyant after their FA Cup semi-final victory over Everton, Ranieri warned that the race was still far from run.

Kane, Alli inspire Tottenham to beat Stoke, cut Leicester's lead to five points

"I'm optimistic, I'm positive. And I know it is not easy because in my mind, Tottenham will win all the matches and then we need five points," said Ranieri, whose side host Everton in their final home game before finishing the season at outgoing champions Chelsea.

"It's not easy. Three matches, two away and one at home. And we must be very, very concentrated as well today."

Leicester were missing 22-goal top scorer Jamie Vardy through suspension against Swansea, but his deputy, Leonardo Ulloa, made sure that he was not missed by contributing a brace, sandwiched by strikes from Riyad Mahrez and Marc Albrighton.

Leicester fan Friend not to referee Spurs' game

Vardy also stands to miss the trip to Old Trafford after accepting a Football Association misconduct charge over his furious reaction to being sent off in the 2-2 draw with West Ham United and Ranieri knows that Louis van Gaal's United will be a different prospect to sleepwalking Swansea.

"Once you can do a fantastic performance without Jamie, but if Jamie takes another day off with suspension, it's important to be solid, to be stronger than today because United is a very good team," he said.

Leicester's fans, who created a riotous atmosphere, celebrated victory with a sardonic chant of "4-0 to the one-man team!"

Ranieri, who wept on the pitch following the recent 2-0 win at Sunderland, said that the emotion fuelling his side made them a formidable proposition.

"Why must we be nervous?" the Italian asked reporters.

"We enjoy all the season. We are doing a fantastic season. We achieve a lot. Now there are only three matches we know are very important for our history. But for this reason we give everything.

"We play with our heart and it's difficult to beat (a team) who play or fight with heart and soul."

Leicester's fans were put through the wringer in the draw against West Ham, in which Ulloa came off the bench to score a stoppage-time equaliser, but the visit of Swansea proved a far more straightforward assignment.

Swansea captain Ashley Williams gifted Leicester their 10th-minute opener by clearing the ball straight at Mahrez, who promptly swept home his 17th goal of the campaign.

Ulloa scored either side of half-time -- a header from a Danny Drinkwater free-kick, followed by a tap-in set up by Jeff Schlupp -- before Albrighton finished off a chance created by fellow substitute Demarai Gray with five minutes remaining.

Nine points clear of the relegation zone, Swansea are effectively safe, but head coach Francesco Guidolin wants his side to make mathematically sure as quickly as possible.

"It's not a good moment for us, but we can improve and we can finish the season well," he said.

"Forty points are not enough. This is my opinion. Now we have two matches at home and one match away and I hope to see my team play well and for a good result."

Tottenham head coach Mauricio Pochettino revealed that he watched Leicester's draw against West Ham over a glass of wine with club chairman Daniel Levy.

Asked how he planned to take in Spurs' game against West Brom, Ranieri replied: "I take a glass of wine with my wife. It's different. I think it could be better!"