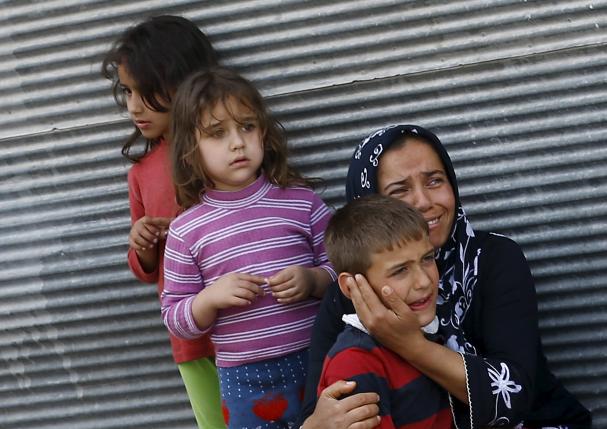 ---
ANKARA: Five rockets fired into Turkey from an area of Syria controlled by the Islamic State group hit the border town of Kilis on Sunday, killing one person and wounding 26, the deputy prime minister said.

A first salvo hit the roof of a house in the Okcular neighbourhood while a second landed close to a mosque, Yalcin Akdogan said in Kilis, in comments reported by the Dogan news agency.

The wounded included six Syrians.

Residents marched on the governor's office in Kilis in protest, only to be dispersed by police, the Hurriyet Daily said, adding that marches and protests had been banned for a month by city officials.

In the last few weeks, IS extremists have repeatedly fired rockets at the southeastern town of Kilis -- the only place in Turkey where refugees from Syria's five-year conflict now outnumber local Turks.

Akdogan said that since the middle of January, 45 rockets have hit Kilis, killing at least 16 people. On Monday, a rocket attack left five Syrians dead, including four children.

Turkey has responded to each of the strikes on Kilis by destroying the launching positions of the extremists with howitzer fire.

Turkish officials have repeatedly lauded the hospitality of people in Kilis towards Syrians as an example of how Turks are hosting the 2.7 million Syrians who have fled their country's civil war.

On Saturday, after a visit to the region with top EU officials, Prime Minister Ahmet Davutoglu insisted once again that "Turkey will respond with force" to attacks on its territory.

Neither IS nor the Al-Qaeda-affiliated Al-Nusra Front are included in a Syrian truce brokered by the United States and Russia that came into force in February.

Washington has applauded Turkey's role in the anti-IS coalition, but US officials on occasion have urged Ankara to do more.
COMMENTS
Comments are moderated and generally will be posted if they are on-topic and not abusive.
For more information, please see our Comments FAQ