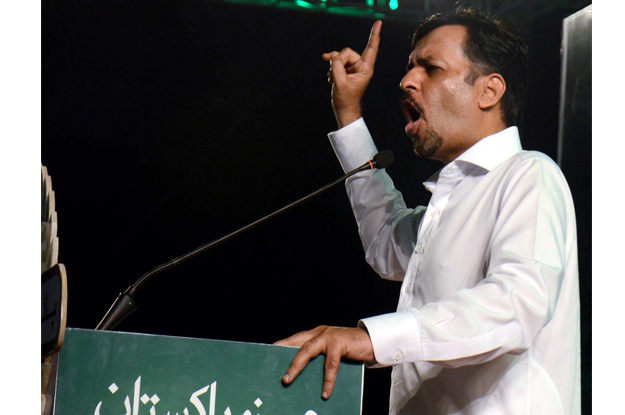 ---
HYDERABAD/ KARACHI: At the first public gathering of his newly launched Pak Sarzameen Party (PSP) on Sunday, former Karachi mayor Mustafa Kamal called for good governance and democracy at the grass-roots level, saying army operations alone won't resolve Pakistan's problems.

"We want a system where people are empowered, and an important part of democracy is local governance," he said at his party's first major outing at the Bagh-e-Jinnah in Karachi. "Power should be devolved to the people where basic problems of the city can be solved."

Regarding the ongoing army operations in the country, he said that they alone won't solve anything. "Good governance is needed. Basic amenities and facilities must be provided to the people."




Kamal said that the work of parliamentarians was not to fix sewerage lines or build schools, but to make laws. "I don't accept democracy which is only limited to the assemblies in Islamabad."

The ex-mayor said people should be able to take up the role of the National Accountability Bureau and that local government bodies should be answerable to people.

He vowed to take his campaign to every city of Pakistan and announced that the PSP would soon hold rallies in Lahore, Multan, Peshawar and Quetta.

Although PSP leader Anis Kaimkhani had earlier claimed the party would be able to lure 300,000 people to the Bagh-e-Jinnah rally, the number of attendees fell far short. According to estimates, there were only 8,000 to 10,000 people at the gathering – only 30% of the venue's capacity.

Nor did any important Muttahida Qaumi Movement (MQM) leader switch over to PSP, as suggested by Kaimkhani earlier.

Even Kamal on Sunday failed to live up to his previous explosive news conferences. Sunday's speech seemed to be a rehash of his previous addresses.

The  former city mayor announced that PSP would soon reveal its manifesto. "Today we have broken the atmosphere of fear in Karachi. The coming generations will see that we have fought against the pharaohs of our times."

He said that his party was only 30 days old but had managed to pull a thousands of people, and said that his first party jalsa was the first where people were holding only national flags. Targeting at its former party, he said that the people of Karachi had turned into RAW agents and uneducated but vowed that the at the city would be turned into a peaceful city again.

Meanwhile, Kaimkhani, in an apparent reference to MQM, warned that if his people were harmed, it would be difficult for 'the RAW agents' to dwell in the country.  "This is not a party of Karachi but a party of Pakistan. Only the national flag would be seen in the country."

PSP supporters attacked

As hundreds of PSP supporters from Mirpurkhas, Umerkot, Nawabshah and Tando Allahyar gathered in Hyderabad on Sunday ahead of the public meeting in Karachi, one bus was pelted with stones by several people who were chanting slogans against PSP leaders.

"The attackers were shouting abuse at us, [PSP leaders] Kamal, Anis Qaimkhani and other party leaders," claimed a man who was travelling on the bus.  "And then they began throwing stones at us," he added.

However, the police prevented the situation from escalating and escorted the bus on to the highway. No case has been lodged against the attackers.

Published in The Express Tribune, April 25th,  2016.