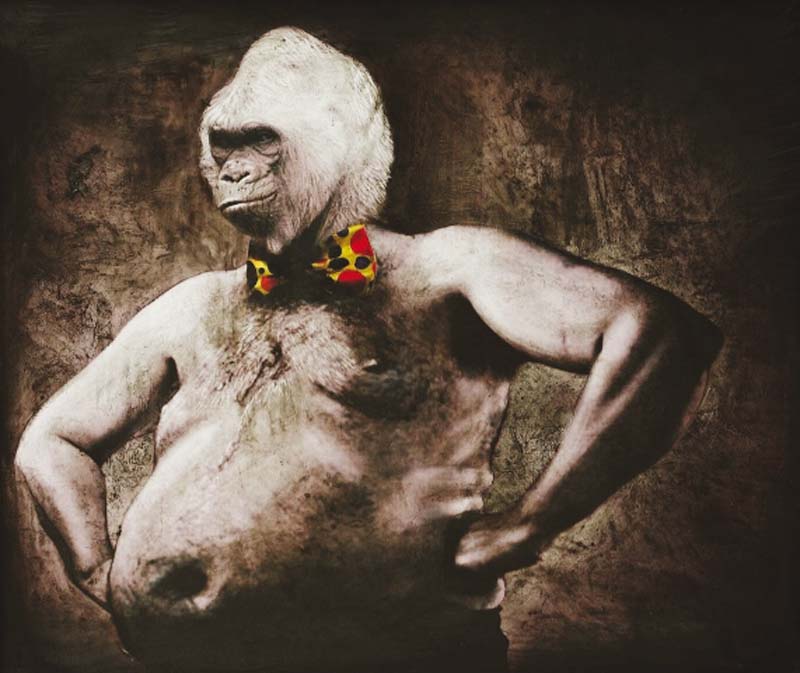 ---
KARACHI: This may be Hassnain Awais's first show in Karachi, but she is by no means a newcomer; her show was characterised by its bold, in-your-face concept. Having previously displayed her work in India, Dubai, Lahore and Rawalpindi, Awais's first exhibition in Karachi, 'The Bestial', strikes a veritable blow to the audience, with the audacity with which she has portrayed the animal instinct within humans.

To put her message across in a straightforward manner, Awais has assigned beastly faces of animals to human bodies. Be it a ghastly crocodile with yellow eyes, pointed shark's teeth or a gorilla's face resting above a bloated belly, the concept is obvious and evokes thought in whoever views the artwork.

The imagery is dark, as is the combination of colours and the vibe the artwork portrays. The work leads viewers to believe there is more to Awais's work than meets the eye.




Speaking to The Express Tribune, the artist said she did not want to confine the human body to East or West, and hence went for straightforward images of a human body. Elaborating on her thought process, she added that the message also extends to society, as people at times attribute one another with such animalistic characteristics.

For this exhibition, Awais has worked as a printmaker, making use of collagraphy to bring out the texture in her pictures. Needless to say, the finishing of her work makes the overall impact all the more real and effective in putting her message across.

One recurring feature in her work is the presence of a red tie. At times striped, and other times a plain, dark red, one cannot help but wonder whether the artist's work is also a commentary on the seven deadly sins. For example, the tie signifies power and the bloated stomach shows gluttony; the slightly evil expression on the faces of the animals also adds to this theme. "Sure, if we look towards society, the seven sins have always been present. Culturally or personally, we do see a reflection of them," said the artist on the presence of such dark sides of human nature.

"Hassnain has taken painting to a new level," admired Mariam Hanif, the curator of the show. "I think it's one of the most exciting and bold exhibitions, both in terms of the technique and subject matter," she said, reiterating how frequently one gets to see a reflection of animalistic behaviour of humans in our society. The exhibition is being showcased at Artscene Gallery and will be on display till April 26.

Published in The Express Tribune, April 25th,  2016.