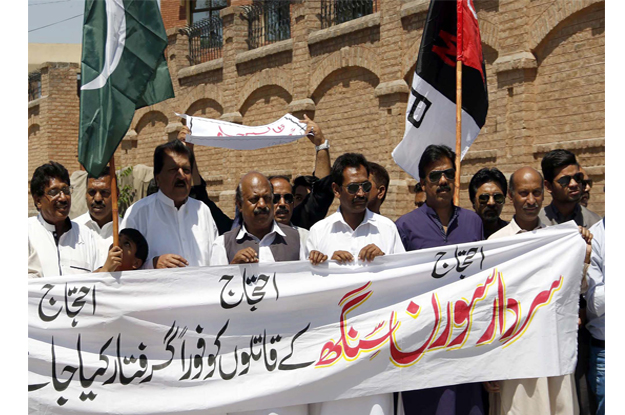 ---
PESHAWAR: At a time when many in the province were mourning the loss of Special Assistant to Chief Minister on Minority Affairs Sardar Soran Singh, his party Pakistan Tehreek-e-Insaf was busy celebrating its 20th birthday.

This was a point raised by many as they protested outside Peshawar Press Club on Sunday against the murder of the MPA. The demonstration was organised by the Pakistan Minority Alliance.

Even though the Christian members of the alliance protested against the murder of the Sikh MPA, his fellow adherents restrained itself from all kinds of demonstrations. They believed in recording silent protests against the murder of their leader who was ambushed and shot dead near his house in Buner on Friday. Gunmen carried out the deadly attack.




Singh was an enthusiastic member of the PTI and who was respected by many for his efforts to fight for the rights of all, irrespective of their faith. As others protested for justice for Singh and security for non-Muslims, his own party members left for Islamabad for PTI's 20th foundation day rally.

Sikhs of K-P were shocked over these festivities of the PTI. They considered this a time of mourning not just for Sikhs, but the nation as a whole.

Radesh Singh Tony, a Pakistan Minority Alliance member, told The Express Tribune he phoned the PTI chairperson and asked him to delay the celebrations. "I called the PTI chairperson and asked him to postpone the festivities as the murder of Singh was a great loss for the party and the country."

He added angrily this was not the time to celebrate, but to investigate the murder of a true son of the soil. Tony claimed that CM Pervez Khattak's announcement that some murder suspects had been apprehended was merely an effort to pacify enraged members of the Sikh community

Holding placards and chanting slogans, the Pakistan Minority Alliance urged the federal and provincial governments to arrest those responsible for the slaying of the MPA.

Bishop Amir condemned the murder of a man he called "a great leader of minorities". He said, "Singh was not just a Sikh, but the leader of all minorities living in K-P.

Amir was also outraged with PTI's celebrations and asked how a party could celebrate its birth a day after one of its leaders was killed.

Published in The Express Tribune, April 25th,  2016.