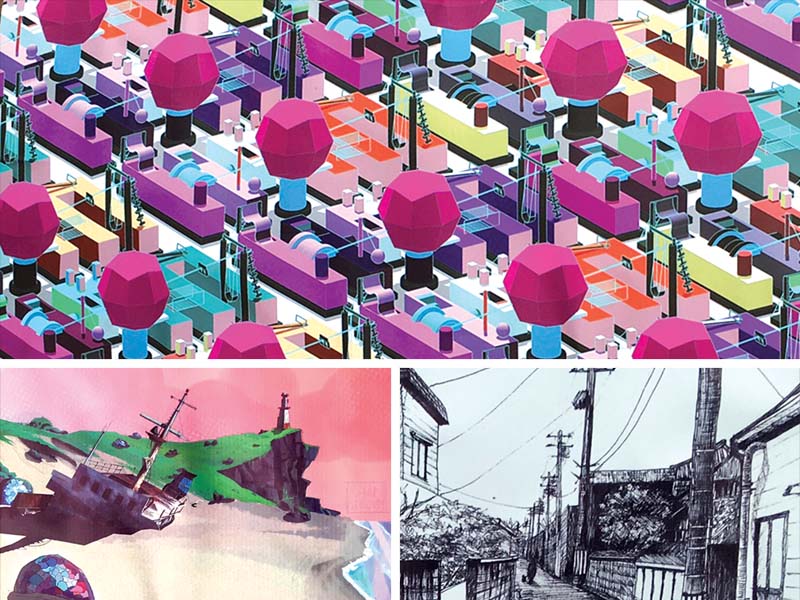 ---
ISLAMABAD:



Artwork speaks volumes when it's for a cause and it speaks even more when the cause is to save the life of a friend. This could be noticed in the artwork displayed by architecture students from the National University of Science and Technology in Kohsar Market.




Architecture and Industrial Design students from NUST brought some of their artwork to a public space in Kohsar Market with an aim to sell it to collect funds to save the life of their friend, who was recently injured in an accident.

The artwork is not the typical oil on canvas and calligraphy that one usually witnesses at art galleries and other street artists but in fact, very innovative and unique digital designs along with handmade ones in different sizes and themes.

The art sale features works of Murtaza Saeed, Mashal Saif, Hassan Lashari, Anam, Arfa Khan and Madiha Javed. Every artist brings in their own unique work and since it is not an exhibition on a particular theme, the art sale brings diverse work that could be framed and used as wall hangings, post cards, cards and bookmarks.

Saad Shahid, an art student from NUST who volunteered at the art sale, told The Express Tribune that the motivation to bring out the work and display it at a public space was particularly to raise funds and save their friend's life. "We're trying to do everything we can, we want him to get the best treatment and the rest is in the hands of God," he said.

He further said that the art sale has been a learning experience for the students too. "It is the first time we have brought out our work and displayed it in such an area for the masses to see and the response we are receiving is great. People are coming in, having a look and taking something away even if it is something as small as a book mark," he added.

The art sale also features an artist, Madiha Javed Bhatti who is live painting based on commission. Madiha said that currently this street art sale aims to raise funds for their friend who is still not stable. "His infection is getting worse and we needed immediate funds so this seemed like the only way. We're planning to take this to a bigger level and display at a public art gallery. We started off with bake sales at university but this region is more prone to elders and foreigners so we're hoping to raise a good amount," she said.

The students are also planning to do portraits and caricatures to attract more people to buy art.

Anjela Briad, Co Founder of Polly and Other Stories said that this art sale is exceptional because it brings young artists on the streets for a cause that is special to their heart. "In my ten years of living in Islamabad, I have rarely seen something like this and I feel like street art sales should be promoted to encourage young talent," she said.

Published in The Express Tribune, April 25th,  2016.