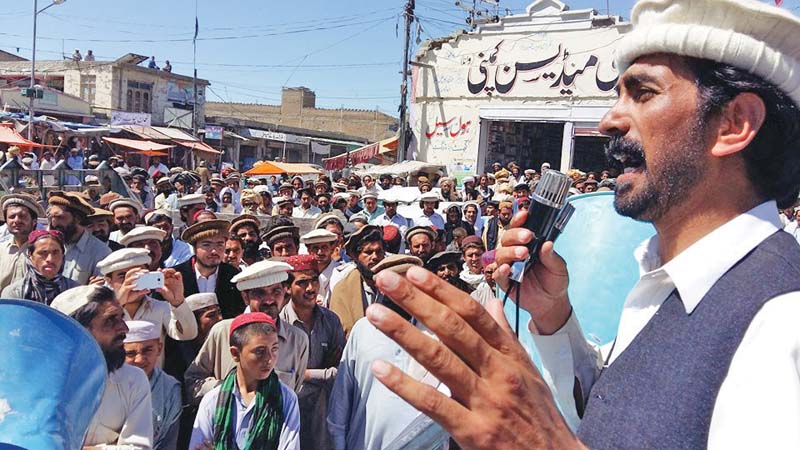 ---
DI KHAN: All FATA Political Parties Alliance took to the streets to demand the abolition of Frontier Crimes Regulations (FCR) and the integration of Federally Administered Tribal Areas with Khyber-Pakhtunkhwa.

A large number of workers held a rally in Wana Bazaar in South Waziristan Agency on Sunday. The demonstration took place a day before the scheduled visit of the FATA Reforms Committee
to Wana.

The protesters marched from Baa Khan Bazaar to Aman Chowk. They held banners and shouted slogans against FCR. Many of them demanded the merger of Fata into K-P.




Addressing the rally, ANP leader Nisar Ahmad Nisar said, "We strongly condemn those who are supporting FCR and urging the public to reject these regulations before FATA Reforms Committee visits Wana on Monday (today)."

He said the tribespeople have been living under FCR for the last 56 years and the colonial law should be abolished.

"Those who fear women will start to go outside their house and approach the court after FCR is abolished do not realise that women have already gone out [of the private sphere," Nisar said. "They are living as internally displaced people (IDP) in different parts of country."

Pakistan Peoples Party leader Amanullah Khan also addressed the rally.

"The British colonial era was cruel, unjust and against basic human rights," he said.

According to the PPP leader, FCR was a product of a colonial regime and must be eliminated.

"We tried to reform the law in the past but to no avail," he said. "Now, we demand FCR be abolished completely."

The rally and protest was arranged by members of PPP, Pakistan Tehreek-e-Insaf, Awami National Party, Pakistan Muslim League-Nawaz, Jamiat Ulema-Islam and also civil society members.

ANP leader Ayaz Wazir, PTI leaders Zubair Wazir, Sardar Arif Wazir, Nawaz Toji Khel and Malik Jamil also addressed participants.

Published in The Express Tribune, April 25th,  2016.