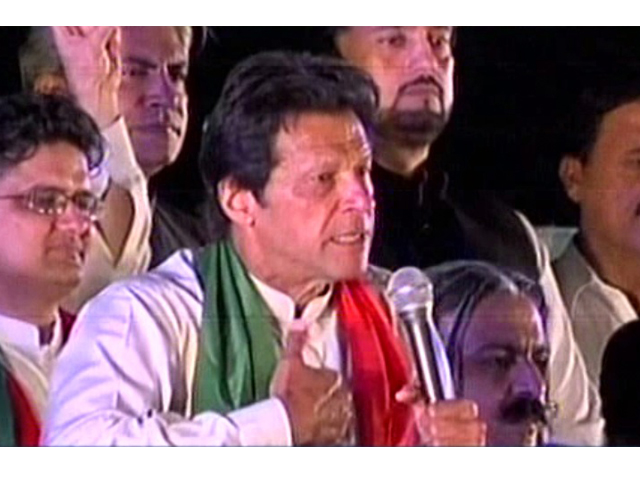 ---
Pakistan Tehreek-e-Insaf (PTI) chairman Imran Khan said Prime Minister Nawaz Sharif will have to step down from the premiership following the Panama Papers revelations into the latter's offshore wealth.

"Mian Sahib [PM Nawaz] you will have to leave," he said while addressing a massive rally in Islamabad's F-9 Park to mark the party's 20th foundation day. "We are launching a countrywide movement against corruption and will start it from Sindh where we will go on April 26 and will subsequently reach Lahore next Sunday."

Imran added, "If you [PM Nawaz] didn't form a fair judicial commission in consultation with the opposition parties we will come out on roads and will march towards Raiwind."

"It has been 20 years now, but it feels like I have just started my party. Although it has been two decades of my political struggle but I am still ready to spend another 20 years. I thank my people for appreciating me and my struggle," Imran said.

The PTI leader emphasized on the rights of minorities in the country and took a pledge from its supporters to protect minorities in Pakistan. "We have to give rights to women; we had to make minorities VIPs; we had to set an example when it comes to safeguarding the rights of minorities."

Panama Papers probe: Imran terms PM's inquiry commission 'an eyewash'
"But I am in so much pain since I heard about Soran Singh murder. Soran's wife and children wanted to leave Pakistan for India but he stayed while his family left," Imran added.

Regarding alleged electoral rigging in 2013 general elections, Imran said he wanted Prime Minister Nawaz Sharif to investigate into four constituencies but the latter did not pay any heed. "And when we staged our sit-in protest he [PM Nawaz] pretended to be innocent as if we were oppressing him."

Criticizing Pakistan Muslim League-Nawaz (PML-N)-led federal government over mega development projects, the PTI chief said children in Pakistan die of malnutrition but the prime minister is announcing the Orange Line Train.

Lashing out at the prime minister, the PTI chairman said: "Panama Papers named you and your offspring but you stayed safe. LDA plots scandal broke out and you took money from ISI but you remained safe. Mehran Bank scandal and Hudebia Papers Mills scandals broke out but you remained safe."

He accused the premier of launching a smear campaign against the former's charitable Shaukat Khanum Memorial Cancer Hospital (SKMCH) in response to the accusations of acquiring illegal money in Panama leaks against the Sharif family.

"The hospital which is working for the welfare for legion of people, you [PM Nawaz] are criticisng it and saying that it has been involved in corruption. If it's true then why didn't you start an investigation in eight years of your rule? I challenge you, Nawaz Sharif, that you start a probe over allegation of SKMH. It will only elevate the fame of the hospital and people will know how much I have spent on my welfare hospital," Imran added.




Imran Khan sees Panama Papers as second chance to oust PM

On Saturday, the cricketer-turned-politician had termed the judicial commission formed by Prime Minister Nawaz Sharif to probe into Panama Papers revelations 'an eyewash', saying the opposition was not taken into confidence on the terms of references (ToRs).

Almost three weeks after the leaks revealed that the prime minister's three children were among dozens of influential people from across the globe having offshore companies in tax havens. The government sent a letter to the Supreme Court registrar, requesting chief justice of Pakistan to form an inquiry commission under broad-based terms of references.

On April 5, PM Nawaz had formed a judicial commission led by a former judge of the Supreme Court, which was rejected by the opposition demanding probe led by the chief justice and audit by an international firm.

A massive leak of 11.5 million tax documents on April 3 had exposed the secret offshore dealings of world leaders and celebrities. Among those named were three of PM Nawaz's children – Maryam, Hasan and Hussain – with the records showing they owned London real estate through offshore companies administrated by the firm.

The documents, from around 214,000 offshore entities, came from Mossack Fonseca, a Panama-based law firm with offices in more than 35 countries.

The ruling Pakistan Muslim League-Nawaz (PML-N) has dismissed Imran's threat of fresh protests, saying the 2014 demonstrations against electoral rigging in the 2013 general elections had also damaged the PTI chief's credibility after election tribunals ruled that the parliamentary poll was largely free and fair.
COMMENTS (38)
Comments are moderated and generally will be posted if they are on-topic and not abusive.
For more information, please see our Comments FAQ