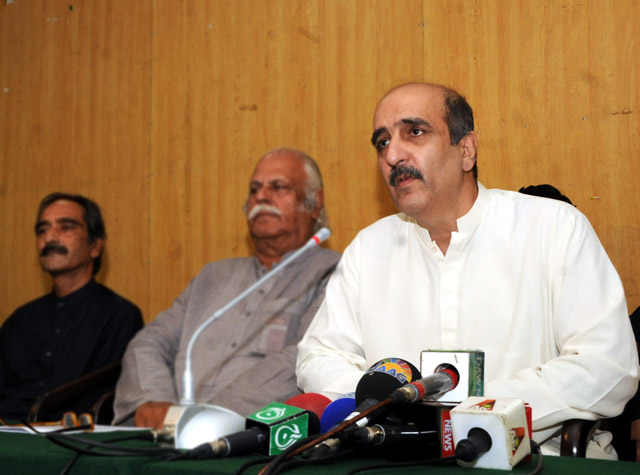 ---
ISLAMABAD: Hours before the formal celebrations marking the 20th foundation day of the Pakistan Tehreek-e-Insaf (PTI) kick off, a group of party's founding office bearers, including a close relative of PTI chief, has demanded Imran Khan to temporarily step down as PTI chairman to save the party from complete destruction.

"We have sent a letter bearing signatures of nine founding members of the party," Akbar S Babar, founding PTI Balochistan chapter president and former central vice president, told The Express Tribune.

Other members demanding Imran to step down include Saeeduallah Khan NIazi, first cousin of Imran Khan, who has served as founding PTI Punjab president; founding PTI District Attock president Syed Hassan Shah; founding PTI District Mansehra president Naveed Khan; founding PTI UK president Advocate Khawaja Imtiaz; ex-PTI District Rawalpindi president Syed Raza Hussain Shah; former PTI District Karachi president Javed Intizar; ex-general secretary ICT Mahmood Khan and Javed Mahsud from FATA.

FIA must probe funding of PTI, says party dissident

PTI leaders said they have also chalked out a plan to reach out to the masses across the country. In this regard a grand convention of founding members from across the country during next month is on the cards, said the PTI Balochistan president.

Accusing the PTI of selling party tickets to highest bidders, the founding members said, "PTI is fast turning into an OLX.com party where tickets, positions, and authority are being auctioned off to highest bidders."

Claiming that the PTI's double standard is destroying its credibility, Babar questioned: "Offshore companies owned by PTI leaders are 'halal' whereas those owned by others is 'haram'."

Further, the PTI leader said he has already filed a case with the Election Commission of Pakistan (ECP) on financial irregularities of the party.

Imran Khan sees Panama Papers as second chance to oust PM

Massive corruption in utilisation of party funds, intra-party elections, and during the ticket allocation process without any accountability have eroded the very foundations on which the party ideology rested, said the party's dissident.

Responding to a question, Babar said that on the one hand Imran Khan offers himself for accountability and on the other yet in the court he denies the ECP to investigate the PTI accounts.

Criticising the PTI-led Khyber-Paktunkhwa (K-P) government of rampant corruption, Babar said former K-P Ehtisaab Commioner Hamid Khan was forced to resign after he started corruption investigations against Chief Minister Pervez Khattak.

It is not the first time he has levlled such allegations against his own party.
COMMENTS (21)
Comments are moderated and generally will be posted if they are on-topic and not abusive.
For more information, please see our Comments FAQ