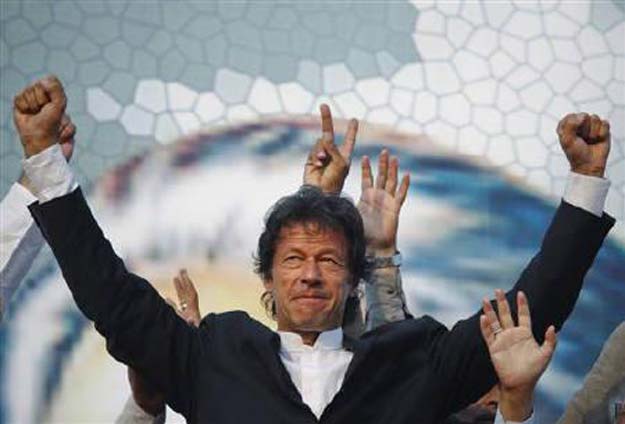 ---
ISLAMABAD: Pakistan Tehreek-e-Insaf leader Imran Khan is leading a party rally on Sunday to rail against Prime Minister Nawaz Sharif, seizing on the Panama Papers leak linking Sharif's family with offshore wealth as a second chance to unseat the leader.

Former cricket hero Imran, who staged protests in Islamabad for months in 2014 over alleged electoral fraud, has threatened to call new demonstrations for Nawaz's resignation, saying this month the prime minister has lost the "moral authority to rule".

Panama leaks probe: Imran rejects Nawaz's inquiry proposal

Imran aides insist the government is wobbling and it is time to strike. Critics, however, say Imran may be overplaying his hand for the second time.

"We demand the resignation of the prime minister on moral grounds," said Shafqat Mahmood, a senior leader of Khan's party.

This month, leaked documents from the Mossack Fonseca law firm in Panama showed Nawaz's sons Hassan and Hussain, and daughter Maryam, owned at least three offshore holding companies registered in the British Virgin Islands.

The International Consortium of Investigative Journalists, which studied the papers, said those companies had engaged in at least $25 million in property and acquisition deals.

Nawaz said his children have done nothing wrong - he gave in to opposition demands for a Supreme Court appointed inquiry commission on Friday and said he would resign if it found wrongdoing - but opponents accuse the family of using the tax haven to launder stolen money and dodge taxes.

The ruling party has dismissed Imran's threat of fresh protests and says the 2014 demonstrations against electoral rigging had also damaged Imran's credibility after election tribunals ruled that the 2013 poll was largely free and fair.

'PPP stopped Nawaz from quitting during dharna'

"Imran is just really desperate for any kind of shortcut to becoming prime minister and with these leaks he thinks he's hit the jackpot," Muhammad Zubair, minister for privatisation and a member of the prime minister's media team, told Reuters.

"But it would be a big mistake to launch any movement right now ... The public is just tired of his agitational politics."

Aaacountability

Nawaz was left weakened by Imran's previous protests, which the army helped Nawaz ride out in exchange for control of security and foreign policy, areas Pakistan's generals have long considered to be their domain.

Imran, who captained Pakistan to its only cricket World Cup victory in 1992, is expected to draw tens of thousands to an Islamabad park later on Sunday.

But to have any realistic chance of displacing Nawaz he will have to have the backing of the powerful military.

The army has not commented publicly on Imran's new threat of protests, but on Tuesday, the army chief, arguably the country's most powerful man, spoke out against corruption in general.

"Across the board accountability is necessary for the solidarity, integrity and prosperity of Pakistan," General Raheel Sharif said while addressing a military function.

Panama Paper leaks: Will resign if proven guilty of wrongdoing, says PM

But while the military may have seen Imran as useful in the previous protests, by putting pressure on the civilian government and enabling the army to convince it to fall into line with its wishes, the generals also see him as a nuisance for seeking to end the fight against the Pakistani Taliban and negotiate peace.

Few believe that Imran has won over the generals, and without the military's backing there is little chance Imran will succeed in dethroning Nawaz Sharif.

"Right now, someone should tell Imran Khan that one Sharif is not ready to quit and the other Sharif is not ready to take over," Pakistan's largest independent weekly paper, The Friday Times, wrote in an editorial, referring respectively to the prime minister and army chief. They are not related.