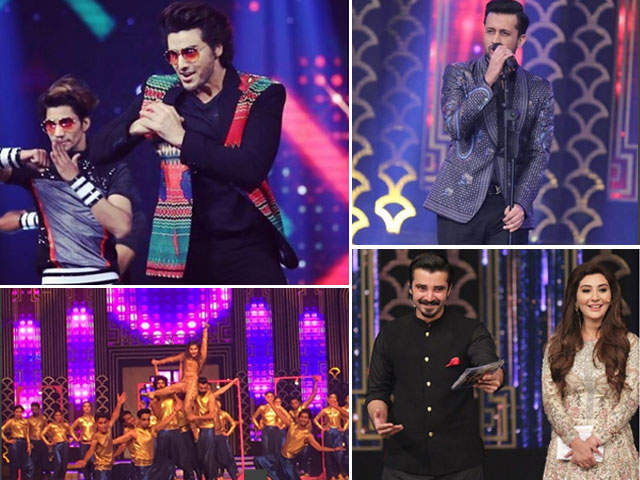 ---
We've seen some great moments this awards season, from Ahmad Ali Butt's hilarious antics to Sohai Ali Abro's killer dance performances. There have been some not-so-great moments as well, however, from peeved celebs to cringe-worthy bloopers throughout award ceremonies, and the Hum TV awards were no exception.

Here are the five best and worst moments from last night's Hum TV awards:

Best moments

1. Actor Ahsan Ali Khan dominated the stage with his performance to Manma Emotion Jaage.

https://www.instagram.com/p/BEjgNESoDA6/

2. Sohai Ali Abro as always, impressed the audience with her dance moves to Gulabo from Shaandaar.

https://www.instagram.com/p/BEjhYbEMvaF/?tagged=sohaialiabro

https://www.instagram.com/p/BEjcr3xqyIY/?tagged=sohai

She even pulled Mawra Hocane on stage!

https://www.instagram.com/p/BEjswsHpKSs/?tagged=sohaialiabro

Sohai also performed to Deewani from Bajirao Mastani. 

https://www.instagram.com/p/BEjeA6ZFLH3/?tagged=sohaialiabro

3. The famous Hocane sisters, Mawra and Urwa, performed an upbeat dance to Let's Nacho and Kheench Meri Photo.

https://www.instagram.com/p/BEj_5AUjO4z/?tagged=mawrahocane

https://www.instagram.com/p/BEj-hkXjO2O/?tagged=mawrahocane

4. Atif Aslam blew us away with his incredible vocal skills.

https://www.instagram.com/p/BEkDEA8ymDd/?tagged=atifaslam

https://www.instagram.com/p/BEkZ8mIj_JO/?tagged=atifaslam

5. Ahmad Ali Butt's antics didn't disappoint. After handing out humour awards to celebrities and his performance to Taher Shah's Angel at the ARY Film Awards in Dubai this month, Ahmad returned to the Hum TV awards with the same spirit.

During technical glitches, he kept the audience entertained with a style competition after rounding up celebrities such as the stunning Saba Qamar, and the outrageously dressed Uzair Jaswal.




He even brought Gohar Rasheed on stage, who was donning an eccentric design by Golabo, and asked if he was trying to strengthen ties between Pakistan and Taiwan, leaving the audience in fits of laughter.

Here's the ultimate list of Pakistani dramas you must watch in 2016

Worst moments

1. On the Red Carpet, as celebrities strutted their stuff for the media, organisers were constantly photo-bombing pictures, which left photographers peeved to say the least.

The disorganised event started at 11:20pm, over two hours past it's scheduled time.

Once the show began, the audience was ready for a great time. Sadly, due to several technical glitches, it did not run as smoothly as expected.




Model Nadia Hussain took the stage to announce the award for best male model, only to find her mic not working. No one past the first row could hear her, and as the hosts Hamza Ali Abbasi and Ayesha Khan announced the nominees, no one ran on stage to give her a new mic. It wasn't until Shahzad Noor wanted to say his thank you speech that a new mic was brought in.

2. While dance performances throughout the night were well choreographed and entertaining, the fact that all the dance numbers were to Bollywood songs seemed odd. On a night when we're celebrating the talent of our own entertainment industry, it would have been intuitive to dance to Lollywood songs.

https://www.instagram.com/p/BEjh84kENhM/?tagged=umairjaswal

3. Certain A list celebrities were seen leaving the event due to poor seating arrangements. Singer Umair Jaswal, along with VJ/actor Wiqar Ali, as well as Faraz Khan (head of Huawei) left the venue because ushers did not know where to seat people.

AFA 16: Here's what's happening in Dubai right now!

4. An award inevitably loses its value when it's given to several people, which is exactly what happened last night where there were two winners for each award category.

Mahira Khan and Sania Saeed shared the film recognition award in the female category for Bin Roye and Manto respectively, while there were three winners on the men's side. Sarmad Khoosat bagged the award for Manto, and so did Humayun Saeed for Bin Roye and JPNA.

Three winners sharing one award is excessive -- they might as well have given everyone a participation award.




5. The hosts of the night Hamza Ali Abbasi and Ayesha Khan, were disappointing to say the least. They lacked on-stage chemistry, and constantly interrupted one another, as well as the presenters on stage. Hamza attempted to crack several jokes that were met with silence from the audience, and Ayesha looked like she'd rather be anywhere else.
COMMENTS (7)
Comments are moderated and generally will be posted if they are on-topic and not abusive.
For more information, please see our Comments FAQ