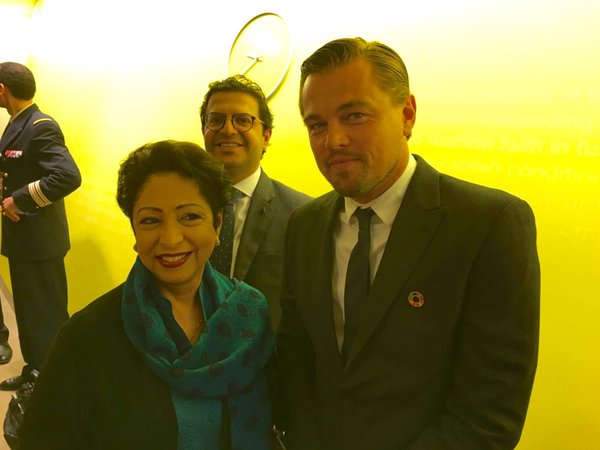 ---
Pakistan's Permanent Representative to the United Nations Maleeha Lodhi on Friday revealed she has invited Hollywood actor Leonardo DiCaprio to Pakistan.

Leonardo DiCaprio wins Best Actor for 'The Revenant'

"Met and invited Leonardo di Caprio, UN messenger of peace, to Pakistan," Lodhi said on Twitter, after a meeting with the actor during a United Nations ceremony on climate change.


Met and invited Leonardo di Caprio UN messenger of peace to Pakistan pic.twitter.com/WctGLLJ3UT

— Maleeha Lodhi (@LodhiMaleeha) April 22, 2016


Lodhi met the Oscar-winning actor at the UN General Assembly session where The Paris Agreement was signed by 175 countries, including Pakistan. The deal aims at reducing greenhouse gas emissions for slowing down the rapidly increasing threat of global warming.

The UN peace messenger, DiCaprio, was one of the speakers at the ceremony. "You will either be lauded by future generations or vilified by them," he said in his inspiring speech.

"We can congratulate each other today, but it will mean absolutely nothing if you return to your countries and fail to push beyond the promises of this historic agreement. Now is the time for bold, unprecedented action," DiCaprio added.

"Our planet cannot be saved unless we leave fossil fuels in the ground where they belong."

Climate change agreement: PM forms committee to take input ahead of signing

The Paris deal commits countries to restraining the global rise in temperatures to "well below" 2 degrees Celsius above pre-industrial levels. But even if the pact is fully implemented, promised greenhouse gas cuts are insufficient to limit warming to an agreed maximum, the United Nations says.

You can watch DiCaprio's full speech here:

https://www.youtube.com/watch?v=r_mbC9pEwBA
COMMENTS (4)
Comments are moderated and generally will be posted if they are on-topic and not abusive.
For more information, please see our Comments FAQ