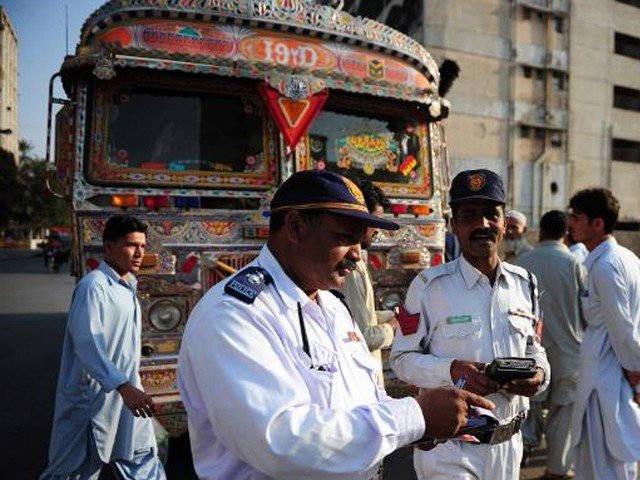 ---
KARACHI: Jameel Ahmed, a traffic police constable at Samama Traffic Section, was trying to clear University Road of poorly parked cars when the heat wave got the best of him.

Ahmed, who was suffering from hepatitis C, became dehydrated and lost consciousness on the job. His peers rushed him inside their check-post and poured cold water over his head. These were the only means available to them to save their colleagues life. Once he gained consciousness, they asked him to go home. The local government may have been on top of providing relief centres for commuters braving the heat wave, the police authorities have yet to provide for the dedicated men working long hours under the sun.

Despite collapsing a day earlier, Ahmed mustered his willpower and reported back on duty on Saturday. This time, he covered his head with a turban soaked in cold water. "My wife gave me this turban to cover my head, before I was leaving home," he told The Express Tribune.

According to the accountant of the same traffic section, Imam Deno, they haven't been provided with any cold water or wet towels by the authorities. "Forget about Oral Rehydration Salts (ORS), glucose sachets or umbrellas," he said. When their traffic wardens come back from their duties in 40°C, all they get is mild cold water inside their traffic section, he pointed out.

Added layers

What makes matters worse is the bulletproof vests the constables have to wear in the aftermath of numerous attacks on traffic policemen. Nadeem, a traffic police constable at Bhittaiabad traffic section, anxiously drank cold water in a heat stroke camp at Jauhar Morr. He unbuckled his black bulletproof vest and throws it on a chair besides him as he sits down. "If not a bullet, this heat will definitely kill us," he murmured. The bulletproof vest has to be worn even if the mercury soars and it weighs 13kg, he pointed out. "At least, we should be provided sheds when we control traffic on the roads," he said.

On their own

The traffic policemen at Bahadurabad section decided to take matters into their own hands and prepared cold milk and ice-cream soda. Their accountant said they have stored cold water inside coolers and brought in wet towels from home.

An official of the Zaman Town traffic police complained that the government does not even provide a shroud when they die. How can they provide Rs200 worth of towels and water bottles, he asked.

However, his colleague Muhammad Kasim pointed out that his officers gave them a water cooler. Azhar Ayub of Gulshan-e-Iqbal traffic section also said his officers gave lemonade to all the traffic wardens stationed in their jurisdiction.

Traffic DIG Amir Ahmed Shaikh was unavailable for comments. Meanwhile, Karachi Commissioner Asif Hyder Shah - whose office has been managing heat wave relief centres - admitted they did not take any measures specifically for traffic wardens.

Most of the relief camps are established near traffic police sections and wardens are free to use their services, he said. Shah said they are planning to provide sheds to the traffic police and the commuters on bus stops. "We will place water coolers at different spots of the city," he said.

Published in The Express Tribune, April 24th, 2016.