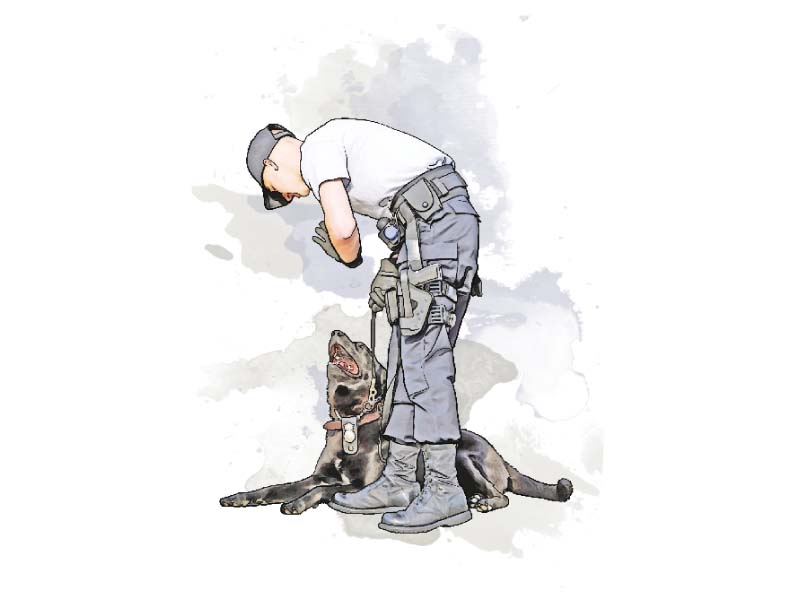 ---
LAHORE:



The use of canines in law enforcement has taken a foothold in the province with police dogs being used to clear venues of all major public events. The Canine Centre at Special Branch of the Punjab Police was established in 2010.  The Special Branch is the first department to establish a school for sniffer dogs after Pakistan Army. A senior official at the centre says the department had initially purchased trained dogs from Pakistan Army. "Now the department has facilities for training such dogs. Many police dogs trained at our centre have served in the field." The Canine Centre has four departments for catering, breeding, medical care and administration.




A police dog starts his training when it is seven months old. It receives a general training for two years. The dog is then evaluated to determine its skills in various areas, for example, explosives and narcotics detection and disaster response. A trainer says not every dog is fit for special training. "Such dogs are kept for guard duties or in the reserve force. If a trained dog falls ill and requires blood transfusions, a reserve dog is used." "A dog's sense of smell is about 1,000 to 10,000,000 times more sensitive than a human's, depending on the breed," the trainer says. "During training, dogs required to detect material in their specialised field. For example, dogs chosen for explosives detection are trained to trace volatile materials." Every dog has a handler who is equally important during search-and-sweep operations. The handler must be wary of the sniffer dog's behaviour. "Every dog has a fixed handler. If the handler is changed, it takes at least two months for another handler to become familiar with the dog."




A handler also undergoes training with his dog. "He is taught to identify the dog's moods, needs and problems. The handler is expected to monitor the dog's responses during operation in the field." "A well-trained dog has very little chances of making mistakes during detection," he said. "If a dog has made a mistake, it is likely the fault of the handler." Another senior official of the Canine Centre boasts that there had been no explosions on route cleared by their dogs since 2010. "The scope of the Canine Centre is increasing every day. No VIP movement or public event is possible without clearance from the Special Branch."

A decade ago, sniffer dogs were used only for few VIP movements. "Now these dogs are used for every VIP movement," he added. "The department is finding it difficult to cope with the demand. We are short of human resources." He says due to constant engagements, most dog handlers could not get leaves. "We require at least 110 handlers to meet the demand," he said.

Published in The Express Tribune, April 24th, 2016.