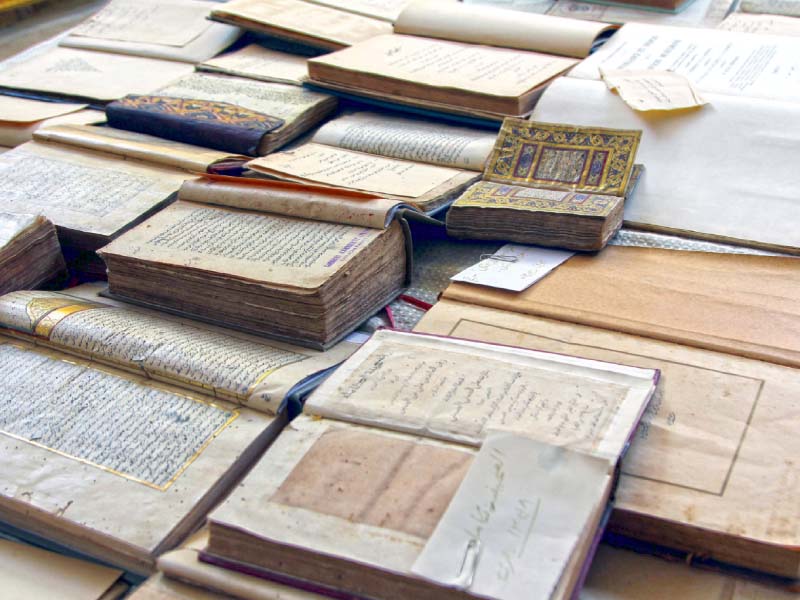 ---
KARACHI: University of Karachi (KU) has opened its doors to showcase rare books, manuscripts, documents, historical maps to mark the World Book and Copyright Day, celebrated today across the globe.

The collection also showcases surveys of Karachi, labelled as 'Kurachee City', including 'Sudder Bazar' and 'Lyaree Quarter ', dating back to 1874, the oldest map on display. A total of 35 historical texts preserved at KU's library were put on display as well as a few catalogues of Sindh archives department.

Aiming high: Karachi Biennale to put city on global art map

The world is moving fast and communication has crossed all the barriers with instant messaging. With a lot of noise, sound and traffic surrounding people in routine events, the silence while reading a book relaxes one's mind, said former parliamentarian, Javed Jabbar.

He was speaking about the importance of books and reading at the World Book Day programme at Arts Auditorium, KU, on Friday. The programme was jointly organised by Dr Mahmud Husain Library of KU and archives department.

Historic connection

Speaking about retaining the bond with history, Jabbar said that the coming generations need to understand that history is not just dates and numbers. History is a mystery that we should strive to solve. "Each time I read a history book I feel how little I know about it," he said.

Written history is the actual mystery which cannot be deciphered, said former Sindh antiquities department secretary Dr Kaleemullah Lashari. "If we can read what alphabets and words are written on the clay tablets, which are found from Mehrgarh, Moen jo Daro and Harappa, than we can know about the beliefs of these people, from a thousand years ago."

Pakistan Study Center's director Dr Jafar Ahmed encouraged the students to write and save their personal things as they will become artifacts of history. Along with written history, oral history is also very important, which comprises memories of the people.

Read-o-meter

Jabbar suggested that people should read for at least 30 minutes every day. "Only 30 minutes without distraction can increase your knowledge and even help you understand the past," he said.

Searching for the Karachi of yesteryear

Incentivising the students, varsity's librarian Kaneez Fatima remarked that Dr Mahmud Hussain library has preserved around 350,000 books. The library is divided into three parts, including special collection, Quaid-e-Azam section and the main section. The Quaid-e-Azam section comprises original copies of books which belonged to Mohammad Ali Jinnah, said another librarian Nadeem Ahmed. "There are 273 books which were gifted to Quaid-e-Azam, which also have his signatures and are preserved in the library," he added.

Published in The Express Tribune, April 23rd, 2016.
COMMENTS
Comments are moderated and generally will be posted if they are on-topic and not abusive.
For more information, please see our Comments FAQ