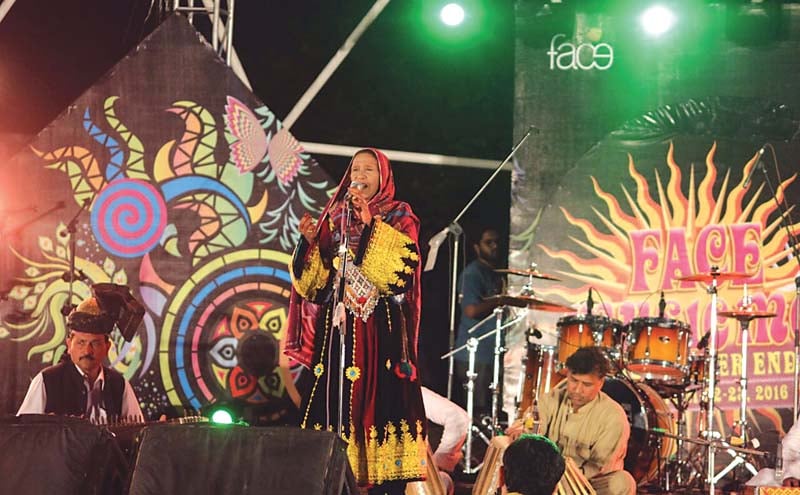 ---
ISLAMABAD: A three-day mega music festival kicked off at the Pakistan National Council of the Arts (PNCA) on Thursday evening amid great enthusiasm and joy.

International and local folk and pop singers have converged to the federal capital to spread happiness and message of peace through music.

The first day of the Music Mela being organised by the Foundation for Arts, Culture and Education (FACE) featured performances by eminent artists including Zarsanga, Taj Buledi, Wahdat Rameez, Marta (a Persian band), Sufi Meeran, Qurban Niazi, Ali Sethi, Sounds of Kolachi, Qawwalistan with Imran Aziz Mian and Noori.

Speaking to The Express Tribune human rights activist Nasreen Azhar said that the festival was a great initiative and such events should be promoted because they spread happiness and portray a positive image of Pakistan to the world.

Saran Ahmed, a resident of the twin cities believes that "The festival gives a blend of different kinds of music; it has something for everyone and its speciality lies in the fact that it brings together such diverse group of musicians. Where else can one listen to Noori and Imran Aziz Mian at the same platform," he said.

The event not only gives a chance to the audience to listen to diverse music but also provides a platform for emerging artists to display their talent.

Imran Aziz Mian, a singer, said that it felt great to be a part of the event. "I performed at the first Music Mela two years ago and from there I got picked for a huge music festival in Austin, USA. It was the first time a Pakistani artist performed there. This is the scope and potential of the event," he said.

"Through this festival, we hope to spread the message of harmony, love and peace to the world. It also gives us a chance to showcase the real talent of Pakistan," Aziz remarked.

He further said that the idea is to spread happiness. "The main aim of music is to bring smiles on the faces of people and make them happy and we hope to do exactly that through this festival," he added.

Mian presented a Qawwali, with Alan Smith on drums, Zeeja Fazli on lead guitar, Ali Tahir on bass guitar accompanied by Tasawar Ahmeddin and Shakeel Ahmed.

His 25-minute performance featured a piece of Rumi's poetry,  Sufi kalam by Shah Hussain and the famous qawwali 'Main Sharabi' sung by his father Aziz Mian Qawwal.

Opening the event, Music Mela Director and internationally acclaimed mystic singer Arieb Azhar said FACE believes in strengthening humanity and the fact that geography should not be a barrier to art.

"It is for this reason that the Music Mela 2016 brings artists from different parts of Pakistan and abroad," he said.

I hope everyone enjoys this three-day event that aims to promote local musicians.

"This is our effort to promote the live music scene in Pakistan because we believe that music needs more prominence, it needs more festivals like these all over the country. We're hosting musical performances as well as workshops and we encourage everyone to attend them. Let the music begin," he said while welcoming the audience to the festival.

The festival will continue until April 23.

Published in The Express Tribune, April 22nd,  2016.

 
COMMENTS (1)
Comments are moderated and generally will be posted if they are on-topic and not abusive.
For more information, please see our Comments FAQ