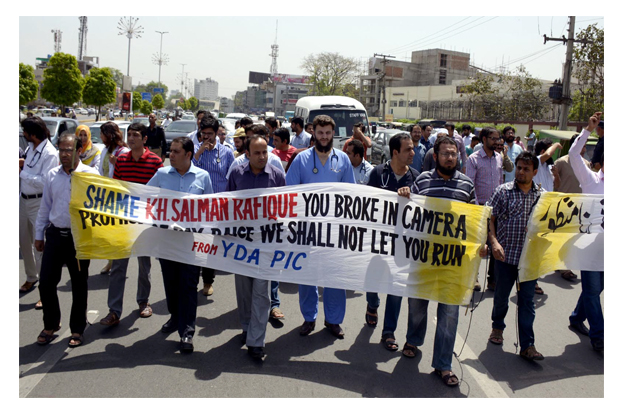 ---
LAHORE:



Traffic on the Mall, Jail Road, Ferozepur Road and Canal Road on Thursday ground to a halt as hundreds of doctors took to the streets.




The protest was organised by the Young Doctors' Association (YDA) in connection with the "illegal" hike in the price of lifesaving drugs, a revision of the health budget, a revision of doctors' service structure and long duty hours. The demonstrators took to the streets at 9am and continued protesting till 11am. Severe traffic jams were witnessed during the hours with the city's traffic grinding to a standstill.

"In order to ensure the provision of healthcare, the government must increase the health budget by 15 per cent. It is insufficient as it is," Mazhar Rafique of Mayo Hospital said. He said the government had decreased the already meagre health budget by 15 per cent. The doctor said the government must immediately withdraw the decision and revise the health budget upwards. "The illegal increase in price of lifesaving drugs and lengthy work hours are some of the other things that ought to be addressed for the welfare of the nation's underprivileged," Rafique said.

I sent a letter

Separately, the YDA penned a letter to the Supreme Court chief justice last week on account of doctors' long working hours.

In the letter, a copy of which is available with The Express Tribune, the YDA said the taxing routine of doctors was to be blamed for the incidence of sexual harassment and brain drain. The association said incidents of medical negligence were being witnessed and reported daily. Similarly, it said, quarrels between doctors and patients' attendants were commonplace.

Salman Kazmi of the YDA told The Express Tribune that doctors were being made to work for 12, 24, 36 and 56 hours at a stretch. He said medics employed across public hospitals province-wide were overworked and sleep-deprived. Kazmi said they were not in a position to deal with patients' attendants in a befitting manner as they were humanly incapable of functioning after working for over eight hours. "On the other hand, the government has slashed the health budget, hiked the price of medicines and failed to revise pay scales. It must address these issues or else we'll initiate a city-wide protest campaign," Kazmi warned.

Health Department's response

Health Department Spokesperson Ikhlaq Ali Khan said Adviser to Chief Minister on Health Khwaja Salman Rafique was not in town on being reached by The Express Tribune for comments. He said the department would look into the demands as soon as he returned back to Pakistan. "We have already accepted all of the YDA's legitimate demands. The department has even included it in policymaking. I really do not know why they have taken to the streets now, Khan said.

Published in The Express Tribune, April 22nd, 2016.
COMMENTS
Comments are moderated and generally will be posted if they are on-topic and not abusive.
For more information, please see our Comments FAQ