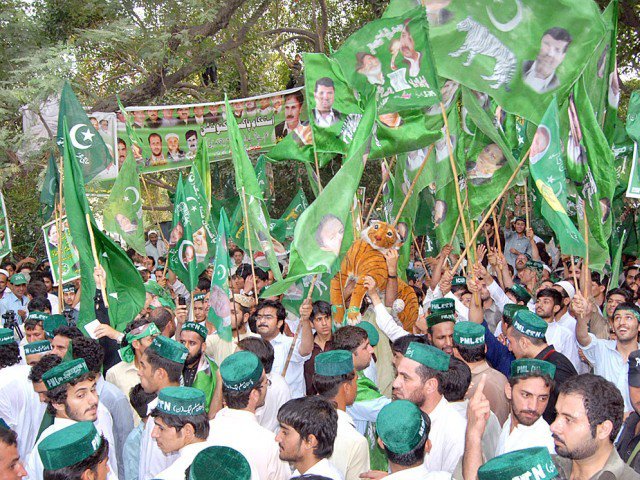 ---
PESHAWAR: Pakistan Muslim League-Nawaz appears to have been reactivated following the appointment of Governor Iqbal Zafar Jhagra.

The party – which had previously remained silent over Pakistan Tehreek-e-Insaf-led protests in Islamabad – has now raised its voice against its decision to hold a scheduled sit-in at Raiwind in Lahore.

This goes to show PML-N workers have tied high hopes with Jhagra as he belongs to their party and is actively trying to provide them with a sense of direction.

Turn of events

During PTI-led protests in 2014 over alleged rigging during the 2013 general elections, not a single PML-N leader confronted the PTI-led government in K-P or voiced its objections.




However, when PTI announced protests at Raiwind and demanded Prime Minister Nawaz Sharif's resignation over allegations made in the Panama Papers, PML-N leaders in K-P immediately threatened to hold a similar protest outside Chief Minister House.

The decision to break their silence reflects a change in the approach of the PML-N's leadership in the province.

Beacon of hope

PML-N workers are relying heavily on the governor who belongs to their party.

Jhagra has been holding meetings with party workers at different intervals, giving them renewed vigour and a strengthened sense of direction.

Recently, while attending a wedding ceremony of a PML-N worker's daughter, the governor mingled with party workers and reassured them that their representatives were active.

Party workers believe it is evident the governor wanted to unite party workers who were either disgruntled or have been excluded.

"This is a different approach and we are amazed to have Jhagra in the office since the former governor had completely sidelined party workers," a senior party worker, requesting anonymity, told The Express Tribune.

He added, "We could see our party losing its position with each passing day and feared we will not be able to find candidates for the next general election. But the new governor has changed all that."

Disillusioned

PML-N workers, requesting anonymity for fear of jeopardising their relationship with former governor Sardar Mehtab Ahmad Khan, alleged the former governor had divided the province into three parts. The northern part was looked after by PML-N MNA Amir Muqam and the southern part by Rehmat Salam Khattak. However, no one was appointed to look after the central part of the province.

This led to party workers forming a group of "disgruntled" members from 18 districts and launch 'Party Bachao' (Save the Party) movement. The leadership of the movement criticised Mehtab on various occasions, blaming him for the deplorable condition of party workers in K-P. PML-N members said when doors of Governor House – which is mostly dominated by PML-N workers – are closed and the governor ignores party workers, there is bound to be a sense of despondency.


This had happened in the past and was one of the prime reasons for PML-N workers' lack of agitation against PTI-led protests against the federal government in the federal capital.


Published in The Express Tribune, April 22nd,  2016.