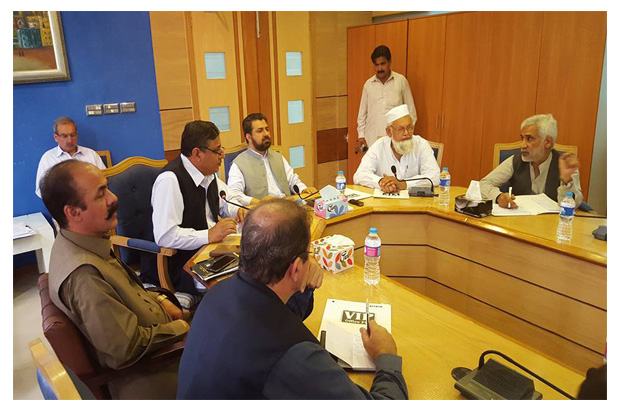 ---
PESHAWAR: Water and Sanitation Services Peshawar (WSSP) has been asked to conduct a quarterly meeting to review its performance and cater to the needs of the public, stated a press release issued on Thursday.

The request was made by Minister for Local Government Inayatullah Khan during a meeting with the management of WSSP. Local Council Board Secretary Syed Zafar Ali Shah, member board of directors Dr Iqbal Khalil, WSSP Chief Executive Officer Muhammad Naeem Khan, among others, attended the moot.

Inayatullah asked the officials to prepare a detailed strategy to ensure timely drainage of rainwater.

He added, "There must be specialised and well-equipped team in all four zones of WSSP. They must respond immediately in the event of heavy rain."




According to the minister, WSSP must devise a plan to construct a drainage system.

Priority basis

About the availability of clean drinking water, Inayatullah said WSSP must look into the matter on a priority-basis.

"There must be a suitable means to provide clean drinking water to the public," he said.

Inayatullah added the consumers must also be encouraged to pay their utility bills on time to ensure sustainability of quality services.

He also underscored the need for mechanical instead of manual sweeping. According to the minister, the management of WSSP must study the practices adopted in developed countries and chalk out a detailed plan to mechanical sweeping.

"The sustainability of WSSP lies in revenue generation," he said. "The consumers may be charged slowly and gradually for the improved civic services."

Muhammad Naeem Khan said the process of land acquisition for dumping solid waste was under way.


He added there is no space in the current dumping site and a new location has already been identified which is 12 kilometres away from the city.


Published in The Express Tribune, April 22nd,  2016.
COMMENTS
Comments are moderated and generally will be posted if they are on-topic and not abusive.
For more information, please see our Comments FAQ