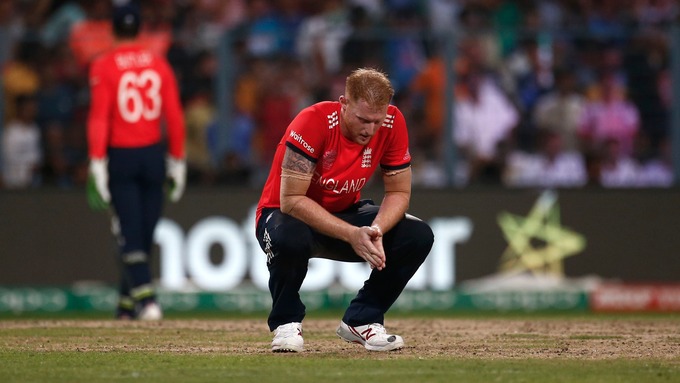 ---
Ben Stokes thrives on his battles with some of the sport's most competitive players as it tends to bring out the best in the feisty England all-rounder, who is hoping to recover quickly from his nightmare end to the World T20 tournament.

Stokes, who has scored three test centuries, has clashed with several players over the past year, most notably an ongoing feud with West Indies all-rounder Marlon Samuels.

"I'm always thinking about the private battle, even in the field. I'm always trying to be better than the other person I'm against," the 24-year-old told the Times newspaper on Thursday.

Windies strike twice to lift two World T20 trophies

"There are guys that you look at and you want to really bowl at them or bat against them, certain guys who really get your juices flowing. They tend to be similar characters to me: (Australia batsman) David Warner, for example.

"I love playing against these guys who have the same attitude to the game that I have. It's always been there, that competitive instinct... I just want to win."

By claiming four wickets and five catches at the World T20 in India, Stokes played a crucial role in England's run to the final in Kolkata on April 3, especially with his bowling at the death.

'Cruel' on Stokes, says proud Morgan

However, in the last over against the West Indies, who needed 19 runs to clinch their second T20 World Cup, Stokes was hit for four successive sixes by Carlos Brathwaite, ending England's own hopes of a second triumph in disastrous fashion.

While Stokes admitted he was "devastated", he also claimed his growing maturity as a player helped him deal with the situation with a better frame of mind.

"I just sat there with a towel on my head, utterly devastated. I didn't want to walk out there slumped and beaten and looking like I felt inside," said Stokes. "A few years ago, I would have really tortured myself about that final over. I used to find it so hard to let go, but I'm a lot better now.

"You can never beat your own mind when it plays tricks on you. I'm learning to cope a lot better with the bad times now."
COMMENTS
Comments are moderated and generally will be posted if they are on-topic and not abusive.
For more information, please see our Comments FAQ