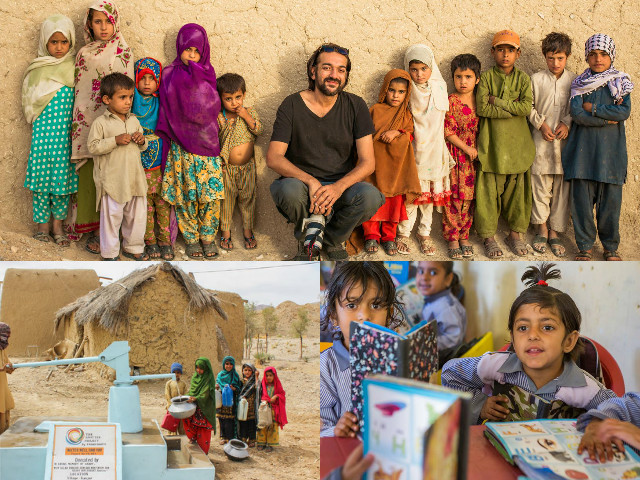 ---
KARACHI: With the advent of smartphones, the power of the lens has been lost in an age of selfies. Thousands of pictures are taken but only a few of them have any real purpose (besides Facebook likes). A Dubai-based Pakistani photographer proves to be one such anomaly - Fahad Bhatti has used his photography skills to help communities around the world.

Over the course of 7 years, Fahad has utilised his passion to improve communities facing a variety of issues. He has narrated powerful visual stories that have helped resolve refugee and other crises including food, water and education.

Diwar-e-Mehrbani: Hanging your share of kindness

He has lent his philanthropic services for:

Swat operation


Flood relief across Pakistan
Syrian refugee crisis in Lebanon
Nutrition and health crisis in Somaliland, Mogadishu and Rwanda


And now he has returned to his roots with The Shutter Project. Started in 2015, the initiative serves the community through photography.

Young artists paint 'Wall of Tolerance' in Lahore's Gulshan-e-Iqbal Park

Speaking to The Express Tribune, Fahad revealed, "Through The Shutter Project we address critical social and environmental issues by bringing together like-minded individuals, corporations and NGOs to drive social change around the world."




On why he has chosen photography as a medium to drive social change, Fahad said, "Photography has the power to move people. For some, it is a profession while for others it is a profound passion."

"For us it has the power to provoke, question and inspire others to act towards giving back to the society. That's why we have chosen the power of lens to help transform lives," he added.

For charity: Hunar Foundation hosts performance of 'Siachen'

So far the project has installed 28 water wells and 10 hand water-pumps in Thar and Balochistan to help overcome the water crisis in remote villages.




Furthermore, school kits and uniforms are being distributed to underprivileged children on a regular basis, in order to support education.




The team is also working towards empowering women. Sewing machines are provided to those who want to generate income for their families and contribute towards the society as a whole.

The Shutter Project offers an opportunity to all individuals to help improve communities.
COMMENTS
Comments are moderated and generally will be posted if they are on-topic and not abusive.
For more information, please see our Comments FAQ