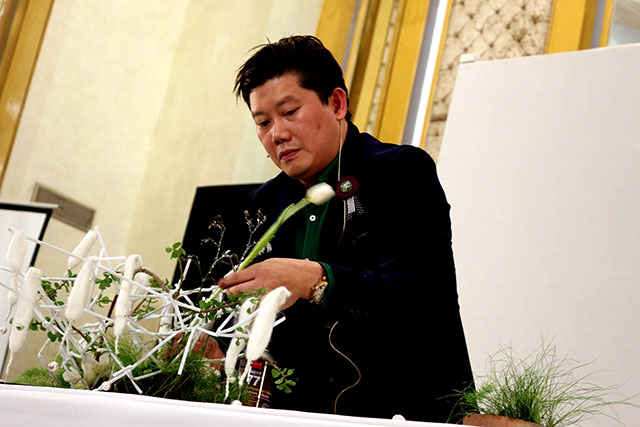 ---
Singaporean florist Harijanto Setiawan flew in to Karachi to teach floral art making to the The Study Group of Floral Artists at Marriot Hotel on April 18.

Flower show: Chrysanthemum show in full bloom

The highly-anticipated event began with the artist introducing the audience to a range of different materials from which he draws inspiration for creating unique and elegant floral arrangements that can be found anywhere from the covers of Vogue to an elaborate Indian wedding reception.

Playing on the unique nature and colours of each flower, Setiawan intertwined them all tigether to create beautiful pieces.

Wah Cantt: Flower and pet show kicks off


PHOTO: HUSSAIN AFZAL
The defining feature of the Singaporean florist's exquisite designs was his use of bold objects to complement the flowers. A reflection of his architectural background as well as his love for nature, the juxtaposition resulted in outstanding pieces.

The flower arrangements were also based on themes. To represent autumn, Setiawan used wooden sticks assembled in sets of six to create a structure that he covered with orange, yellow and brown tulips.




The effortlessness displayed by the renowned designer while working on his intricate designs was inspiring to say the least.

For Setiawan, "less is more" and his vibrant designs reflect on this ideology, making them stand out.

Pretty gardens: IUB wins flower competition




Setiawan's designs have been recognised world over and won him a number of awards, including the Silver Gilt Medal at Chelsea Flower Show London, a Gold Award at the Singapore Garden Festival as well as International Designer of the Year 2015, at Fusion Flowers London.