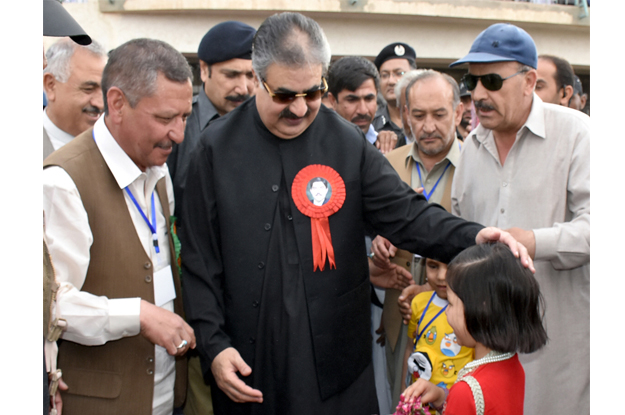 ---
QUETTA:



The provincial government had purged the misnomer 'settler' from the daily use word list as all peoples living in the province, including Pashtuns, Balochs, Hazaras, Sindhis, Punjabis and others equally belonged to Balochistan and were patriotic to the core, Chief Minister Balochistan Nawab Sanaullah Khan Zehri said on Wednesday.




He said that people of all nations stood unified and people's unity would defeat elements using acts of terrorism.

On the same page: A handful of people can't harm Pakistan, says CM Zehri

He was speaking at the concluding ceremony of the Shaheed Agha Football Tournament organised by Shaheed Talib Agha Foundation here on Wednesday.

The chief minister said that the government and security forces had decided not to spare a single terrorist and they (terrorists) would be pursued no matter where they hid to boost peace, literacy rate and prosperity in the province.




He said that all those involved in killing innocent people, including teachers, engineers, doctors and bus passengers, would be severely dealt with, adding that terrorists were in disarray and they were close to being defeated.

The chief minister said that innocent people, including his own family and members of the Hazara tribe suffered atrocities, adding that he exhibited moral courage by tendering resignation as the provincial home minister in the face of these gruesome acts.

The 'neglected' province: 'Violence in Balochistan reduced by 90%'

He said that in his capacity as the Chief of Jhalawan, it was his responsibility to protect all tribes living in Balochistan, adding that this was done by his ancestors who fought against British imperialist forces to this end.

He said that when he was sworn in as Chief Minister, the terrorists tried to coerce him, believing that he would be subdued by their tactics. "But by the grace of God Almighty, my government has repulsed them vigorously and will continue its efforts to exterminate them."

He said that he would never strike a bargain with terrorists or play the role of a silent spectator over any atrocity.

Reiterating his offer, the chief minister urged the insurgents to join the national mainstream and parliamentary politics.

The CM said all issues being faced by Quetta and Balochistan would be solved and steps had been taken in this regard, including provision of clean water to Quetta from Pat Feeder Canal.


Published in The Express Tribune, April 21st, 2016.
COMMENTS
Comments are moderated and generally will be posted if they are on-topic and not abusive.
For more information, please see our Comments FAQ