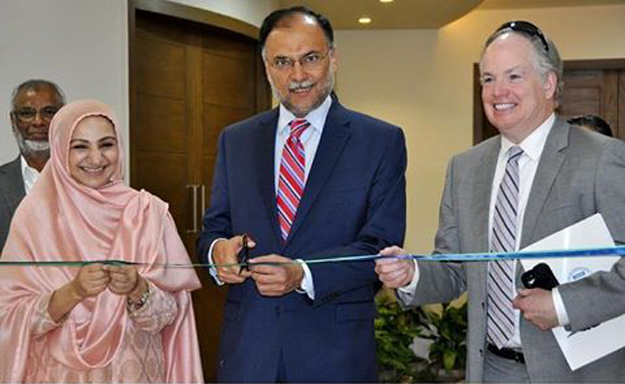 ---
ISLAMABAD: The Health Planning, Systems Strengthening and Information Analysis Unit (HPSIU), a national dashboard which will compile online interactive health information from provincial health departments, was launched on Wednesday by the Ministry of National Health Services, Regulations and Coordination (NHSRC).

The USAID-funded unit will also collect national data on international reporting and tracking progress on health indicators.

NHSRC Minsiter Saira Afzal Tarar said the initiative was announced last year after consultations with provincial health departments, international aid agencies, and development partners.

She said that it would help align health facilities.

She said that in the absence of a national-level analytical system on health, this would fill aptly fill the void.

"We have to focus on neglected areas, particularly in Balochistan, Gilgit-Baltistan, and Fata," she said.

Dr Ahsan Maqbool Ahmed, a consultant on the project, said that all this information was available on paper before, but has now been digitised.

"The unit focuses on providing national-level guidance and facilitation for policy and planning, supporting health services through provincial health departments to achieve uniformity and equity across the country," Tarar said.

She said that the unit would function as a knowledge management hub for producing national level aggregated figures and numbers for the national level reporting in response to Pakistan's commitments to international treaties and the Sustainable Development Goals (SDGs).

Tarar said that the dashboard would also help form a more uniform, equitable, and effective health services delivery and coordination across the country.

She said that the ministry of national health services had undertaken a reform agenda in the three year's since its establishment.

Earlier, Planning Minister Ahsan Iqbal said that this was a critical step towards the implementation of Vision 2025.

"Health management information system is critical and without an efficient health care system no one can make economic progress," he said.

He said that although healthcare was now a provincial responsibility, the federal government had an important role to play in providing a platform for coordination.

"The major challenge of donor-funded projects is sustainability," he said.

USAID Mission Director John Groarke said that Pakistan was facing challenges due to missing data and the devolution of the health sector.

"For healthy citizens, the health system itself must be strong. Fortunately, the government of Pakistan recognises this," he said.

Published in The Express Tribune, April 21st, 2016.
COMMENTS
Comments are moderated and generally will be posted if they are on-topic and not abusive.
For more information, please see our Comments FAQ