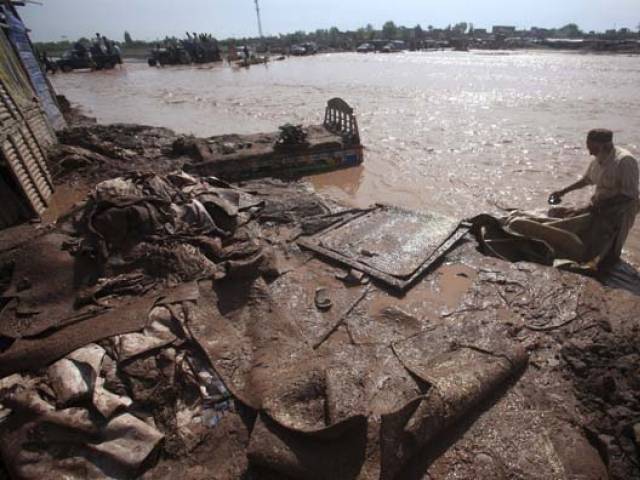 ---
KOHISTAN:



Othar Nala victims expressed their resentment over delays in the rehabilitation of their homes and roads in the area. They have demanded that the government compensate them and rebuild their houses which were damaged in a landslide.




Speaking to the media in Komila on Wednesday, the heads of families, including brothers Nazri, Sakhi, Safi and Zaigdoon, went over the events triggered by lightning in the early hours of April 4, which struck a hill in the area. They said this caused a landslide and 28 people from six houses were buried and killed in the incident.

Othar Nala landslide: Six more bodies pulled out




"It felt like doomsday; there were loud sounds and in a few seconds everything disappeared – in front of my eyes," said Nazri who lost eight sons, four daughters and his wife in the tragedy.

"[All four of us] were stuck in a cave-like structure in the hill. For several hours, we could see our loved ones buried but we could not get out as there were landslides for two days."

Zaigdoon said as soon as they were able to free themselves from the cave, the brothers tried getting hold of their senses and started a rescue operation on their own. They managed to rescue a woman and her two children and retrieved two bodies.

Zaigdoon pointed out, "We were unable to take the injured to hospital as it was at a long distance and the roads were blocked."

He added, "After two days, police and locals shifted them to District Headquarters Hospital Dasu for treatment."

Recounting his experience, Safi said six more bodies were later removed after seven days but 17 villagers were still buried under the landslide. He accused the government of negligence saying the administration's ineptitude forced the families of the villagers buried to declare the site of landslide as a grave.

Site of landslide in Kohistan declared communal grave

To a question, the brothers said they were living in partially-damaged houses close to the site and the government has not taken any steps for their rehabilitation. They denied receiving any compensation which the provincial government had announced for the victims. They demanded the reconstruction of their houses and payment of compensation at the earliest.

Meanwhile, when The Express Tribune approached Kohistan DC Raja Fazal-e-Khaliq, he did not respond to any calls. Another official said the compensation report for Othar Nala victims has been sent to the provincial government and was being processed.

Published in The Express Tribune, April 21st,  2016.