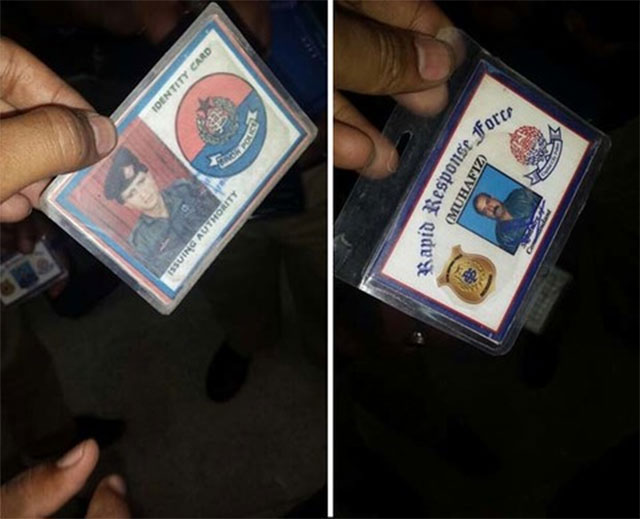 ---
ISLAMABAD/ KARACHI: At least seven police officials were killed in two separate attacks as unidentified armed men opened fire at them in Karachi's Orangi Town on Wednesday.

The attacks took place within 600 metres (650 yards) of each other near a market, a senior police official said.

"One took place at the three policemen who were escorting a polio team, the policemen were on foot when they were attacked," said the official, Ali Asif. "In the second incident, four policemen in a police van were targeted."

Tehreek-e-Taliban Pakistan (TTP) splinter group Jamaatul Ahrar claimed responsibility for the attack.

Sindh Home Minister Anwer Siyal said eight armed men carried out the attack.

"The policemen sacrificed their lives to protect the polio workers," he told a private TV channel.

Polio drive begins in Karachi, Hyderabad and Kotri tehsil

Abdul Kareem, an official in Abbasi Shaheed Hospital where the bodies were taken, also confirmed the casualties.

Following the attack, polio workers called off the vaccination drive despite the home minister's order for it to be continued according to schedule.

A four-day polio vaccination drive was launched in all six districts of Karachi, Hyderabad and Kotri tehsil of Jamshoro on Monday.

The 'sub-national polio supplementary immunisation campaign' in Karachi, being supervised by the emergency operation centre (EOC) for polio, was formally launched by commissioner Asif Hyder Shah when he administered polio drops to children at a maternity home in PIB Colony.

At least 15 killed in suicide blast near polio centre in Quetta

A total of 6,200 health workers were to perform their duty in Karachi's 188 union councils. To ensure their security, the police provided 5,000 personnel.

In January, a suicide bomber blew himself up outside a polio vaccination centre in Quetta, killing at least 15 people, mainly police, officials said.

The policemen had been gathering outside the centre to accompany polio workers on the third day of a vaccination campaign which are frequently targeted by Taliban and other militant groups in Pakistan.

Sindh CM announces reward

Moments after the attack, a high-level meeting announced Rs5million reward to the person providing information on the attackers.

The reward was announced by Sindh Chief Minister Qaim Ali Shah, who also directed DG Rangers General Bilal Akbar and Sindh Police IG AD Khawaja to launch a vigorous operation against the perpetrators.

"I am approving Rs5 million reward for the person who would give information about the killers," the chief minister said, while also announcing Rs2 million for the kin of each killed policemen, and two jobs for their heirs according to their qualification.

Shah also asked the Sindh IG to continue the salaries of the fallen policemen and "count on them as if they are among your force".
COMMENTS (28)
Comments are moderated and generally will be posted if they are on-topic and not abusive.
For more information, please see our Comments FAQ