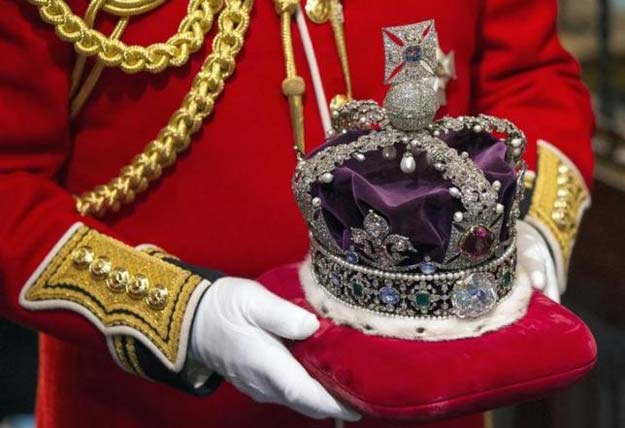 ---
The Koh-e-Noor saga has taken another interesting turn on Monday as Indian-born British politician said the coveted diamond actually belonged to Pakistan.

"If Koh-e-noor belongs to anybody, it belongs to Pakistan," Lord Meghnad Desai said while speaking to India Today.

Colonial era dispute: Koh-i-Noor belongs to Britain, Indian court told

Referring to the 19th-century Sikh king Ranjit Singh, who had given the stone to the British, Lord Desai reasoned that since Singh's seat was in Lahore, the diamond should go to Pakistan.

"Because his territory was mainly in, what is now Pakistan - in Lahore there is a Ranjit Singh museum - it will go back to wherever the Punjab kingdom had its seat and his seat was in Lahore. So I think if it belongs to anybody, it belongs to Pakistan," he said.


If Kohinoor belongs to anybody, it belongs to Pakistan: Lord Meghnad Desai #NEWSROOM https://t.co/7zm51mqHtO

— IndiaToday (@IndiaToday) April 18, 2016


Indian government said Tuesday that it will make all possible efforts to get back the Koh-e-Noor Diamond from Britain despite comments by New Delhi's solicitor general that the priceless jewel should stay with the former colonial ruler.

India has repeatedly demanded that Britain return the 105-carat diamond, which was presented to Queen Victoria in 1850 and today sits on display as part of the Crown Jewels in the Tower of London.

India's solicitor general surprised many on Monday when he told the Supreme Court that his country should forgo its claims to the jewel because it was given to Britain as a gift by an Indian king in 1851, rather than stolen as many Indians today believe.

The government said on Tuesday his view did not represent its own and that it was yet to give its opinion to the court, which is hearing a case demanding the diamond be returned.

LHC accepts petition seeking return of Koh-e-Noor diamond from British Queen

"The Government of India further reiterates its resolve to make all possible efforts to bring back the Koh-e-noor diamond in an amicable manner," the ministry of culture said.

The ministry said the stone was a "valued piece of art with strong roots in our nation's history" and that Prime Minister Narendra Modi was determined to get it back.

A lawyer in Pakistan last year filed a court petition calling for the stone's return.

The Koh-e-Noor is set in the crown worn by Queen Elizabeth, the mother of the reigning monarch, at the coronation of her husband George VI in 1937, and was placed on her coffin at her funeral in 2002.

The Duchess of Cambridge, who last week visited India with her husband, Prince William, will wear the crown on official occasions when she becomes queen consort. William is second in line to the British throne.

Additional input from India Today.
COMMENTS (19)
Comments are moderated and generally will be posted if they are on-topic and not abusive.
For more information, please see our Comments FAQ