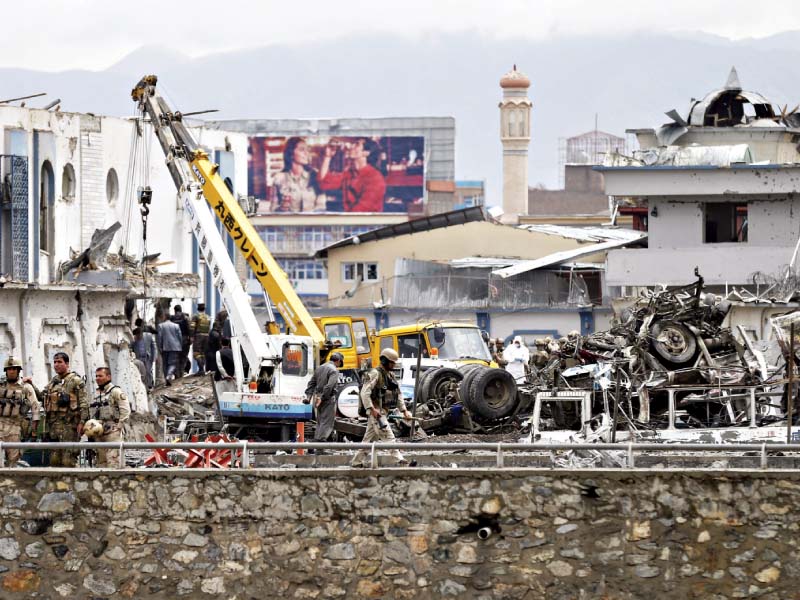 ---
KABUL/ ISLAMABAD:



Thirty people were killed and hundreds wounded when a Taliban truck bomb tore through central Kabul and a fierce firefight broke out Tuesday, a week after the insurgents launched their annual spring offensive.




The Taliban claimed responsibility for the attack in a densely crowded neighbourhood. The brazen assault near the defence ministry marks the first major Taliban attack in the Afghan capital since the insurgents announced the start of this year's fighting season.

"One of the suicide attackers blew up an explosives-laden truck in a public parking lot next to a government building," Kabul police chief Abdul Rahman Rahimi told reporters. "The second attacker engaged security forces in a gunbattle before being gunned down."

Interior ministry spokesman Sediq Sediqqi said 30 people, including women and children, were killed in the attack. He added that more than 320 were wounded, with many of them battling for their lives in hospital. The interior ministry said hundreds of kilogrammes of explosives were used in the bombing, the deadliest so far this year in the Afghan capital.

The pitched firefight appeared to die down several hours after the powerful explosion, but some security officials expressed concern that other bombers may still be on the loose.

The Taliban claimed three 'martyrdom seekers' carried out the attack on the National Directorate of Security, the main spy agency. One of them, it said, managed to slip away alive.

Later Tuesday a second explosion was heard in downtown Kabul, but the nature of the blast was not immediately clear and no casualties were reported.

"This (deadly) attack shows the devastation caused by the use of explosive devices in urban areas and once more demonstrates complete disregard for the lives of Afghan civilians," the UN said.

The deadly violence prompted Afghanistan's Chief Executive Dr Abdullah Abdullah to postpone his Pakistan visit. "After initial evidence of today's suicide attack in Kabul, Dr Abdullah decided to postpone his upcoming official visit to Pakistan," his media office said.

Dr Abdullah's spokesperson Javid Faisal also confirmed the postponement of the trip.  "Everyone knows who supports, finances and trains terrorists. The world must act to eradicate terrorism," Faisal wrote on his official Twitter handle.

Afghan Defence Ministry officials urged Pakistan to stop armed opponents from carrying out terrorist attacks in Afghanistan. "If Pakistan does not realise the sensitivity, the flames of the war could burn the whole of Pakistan," defence ministry spokesman Daulat Waziri said at a news conference.

Published in The Express Tribune, April 20th, 2016.