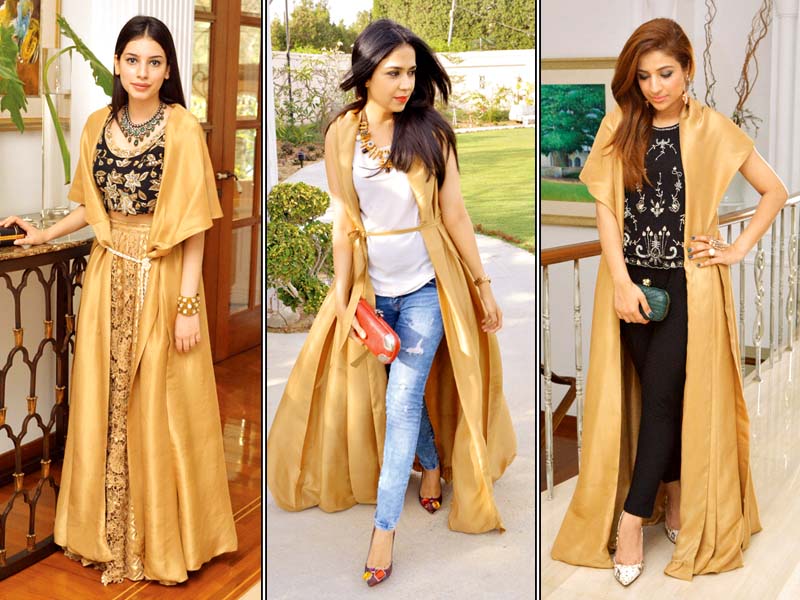 ---
While trends fade, style remains eternal and one piece can be put together in many different ways. We ask three fashionistas to put together an outfit using the same, one item from a designer's collection, according to their style and taste!


According to designer Momina Teli, this jacket was first unveiled in her Spring/Summer 2016 look-book in a deep cranberry colour. Since red was decidedly evening, it was recreated it in a rich camel colour to add versatility. The fabric used is Teli's signature pure silk. It has a beautiful sheen and texture and an inherent richness, flattering most body types —  and can be worn across different age groups too.


Maha Burney

Creative Director, NFK Photography

Momina Teli's champagne-coloured jacket is such a versatile piece. Though it could be worn in a variety of ways, I chose to stay true to my personal style and wear it with my closet staple, my jeans! I wanted the outfit to be cool but chic at the same time, and for this I first put on a pair of distressed jeans and a white silk camisole. I put on the jacket, scrunched the collar up just a bit, and belted it to the side with the belt it comes with. I put on a pair of Sophia Webster heels, a statement necklace by Outhouse Jewellery and a red clutch by Bottega Veneta. I kept my hair straight and for my make-up I did blood-red lips, to match my clutch, as well as classic eyes using gold eye shadow. I would wear this to a fancy brunch, or a day party — it is a great day-to-night look.


Amal Asif

Student

At first sight, I absolutely fell in love with the jacket! I paired it with a fully worked, gold lengha and a black choli for a fusion-wedding look. I belted the jacket with a belt made out of beautiful strands of white pearls, which enhanced the traditional appeal of my ensemble and definitely complemented the traditional look I was going for. I left the jacket a bit loose on my shoulders, so that the jacket could flow well with the rest of my ensemble. For my make-up, I chose to do a dark, smoky eye with nude lips. I kept my hair straight, with a centre parting. I added a stunning traditional polki necklace along with a gold cuff to accessorise my outfit. I finished off my look with a black Alexander McQueen clutch. I think my outfit is appropriate for any wedding event, be it a mehndi or shaadi.


Soha Hafeez Sheikh

Social media strategist at Sana Safinaz

This jacket can be worn in a variety of different ways (you can even wear it as a hood), as well as by day or at night, but I finally settled for wearing it as an evening ensemble. I wore an embellished black top and high-waisted tapered black trousers. I then put on the jacket and left it unbelted and loose on the shoulders. I paired this with pointed snakeskin heels, a palm ring and earrings from Outhouse Jewellery. I opted for a very sleek blow-dry. For my make-up, I opted for a dark smoky eye look, with nude lips. For final touches, I added an emerald-green clutch to add a pop of colour. I would wear this ensemble for a night out, as it makes a great outfit for a formal or festive occasion.