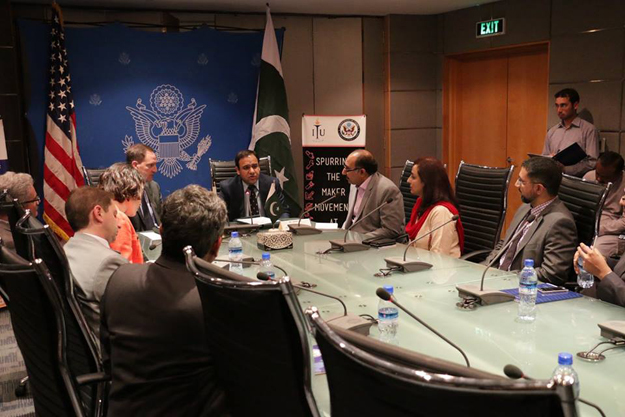 ---
LAHORE: Information Technology University (ITU) Vice Chancellor Umar Saif and the American embassy's Deputy Chief of Mission Jonathan Pratt signed a Memorandum of Understanding (MoU) on Tuesday to establish a Lincoln Corner at the varsity.

"Lincoln Corners present a great opportunity to build bridges and increase mutual understanding between Pakistan and the United States," Saif said. The corners are partnerships between diplomatic outposts of the United States and selected institutions in Pakistan. Located across universities, public libraries, and other institutions, Lincoln Corners further information about the United States, English language learning, Education USA, cultural programmes and alumni activities.

"The Lahore Lincoln Corner will host academic programmes, speakers from the United States, English language activities and cultural events like the Ari Roland Jazz Quartet's recent performance at the ITU," Pratt said. He said such spaces facilitated dialogue, countered negative preconceptions and promoted understanding.  Pratt said visitors got free Wi-Fi access, reliable information about the United States through books, magazines, videos, internet, databases, and programmes through Lincoln Corners.

Saif also gave the American embassy's deputy chief a tour of the Plan-9 incubator and Plan-X accelerator facilities which are projects of the Punjab Information Technology Board (PITB) housed at the ITU.  Pratt interacted with Plan-9 entrepreneurs selected to travel to Austin under ATX+PAK, a project that connects Plan-9 and Plan-X with Austin to cultivate partnerships in connection with entrepreneurial activities. The project will help connect entrepreneurs and investors in Austin's start-up scene to similar emerging communities across Pakistan.

Published in The Express Tribune, April 20th,  2016.