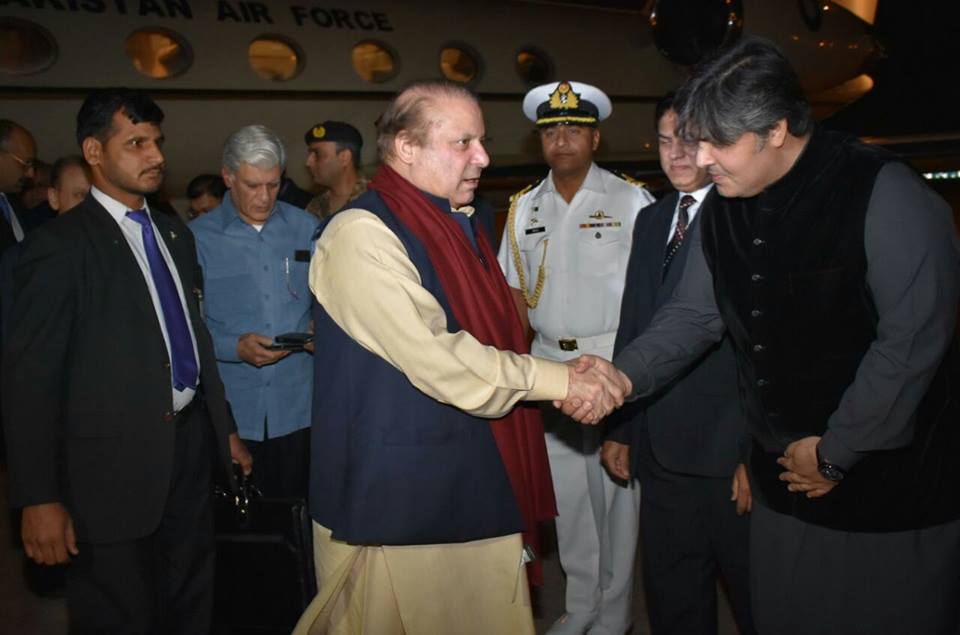 ---
Prime Minister Nawaz Sharif arrived in the country Tuesday evening following his week-long visit in London for "medical check-up".

According to Express News, the premier landed at the Noor Khan Airbase of Islamabad where he was received by a number of civil and military officers.


Glad to reunite with my father ❤️
Moments of gratitude .....
May Allah bless him with long life & good health. Ameen. Millions prayed.

— Maryam Nawaz Sharif (@MaryamNSharif) April 19, 2016
A moment of silence for those who claimed Prime Minister Nawaz Sharif will not return.

— Maryam Nawaz Sharif (@MaryamNSharif) April 19, 2016


Earlier, the premier spoke to newsmen outside his UK residence, minutes before leaving for Pakistan.

"I feel much better now and with your prayers I hope it [my health] will remain well. I am going back to my country right now where I will once again start working for the revival of its economy,"

Taking a jibe at Pakistan Tehreek-e-Insaf (PTI) chairman Imran Khan over his plans for staging a sit-in over Panama leaks issue, the prime minister said: "I hope he [Imran] desires Pakistan's progress as much as every common Pakistani does."

PM Nawaz departs for London amid Panama Leaks controversy

In response to a question, the prime minister said Pakistan needs peace and stability for its economic revival and the nation has rejected the negative politics.

"A large number of Pakistanis want peace and stability in the country instead of the politics of sit-ins," said the PM.

Regarding an investigation into the Panama leaks, the prime minister claimed a commission will soon be formed to probe the allegations. "Interior Minister Chaudhry Nisar has already disclosed the names of the people we have contacted to form the commission and the Supreme Court has also passed remarks on the issue," he said.

Last week on Wednesday, PM Nawaz departed for London for a "routine medical checkup, which was repeatedly postponed due to his official engagements over the past few months".

Zardari not meeting Nawaz in London: Bilawal

Opposition parties severely criticised prime minister's London visit at a time when demands were being made back home for his resignation following Panama Papers leaks.

About 220 Pakistanis, including three children of Prime Minister Nawaz Sharif, have been named in the massive leak of documents from a Panama-based law firm.

The exposé dubbed Panama Papers also mentions the names of 143 Pakistani politicians, some serving and retired judges, several businessmen and a media baron. The leaks have sparked calls for independent investigations against those keeping offshore assets.