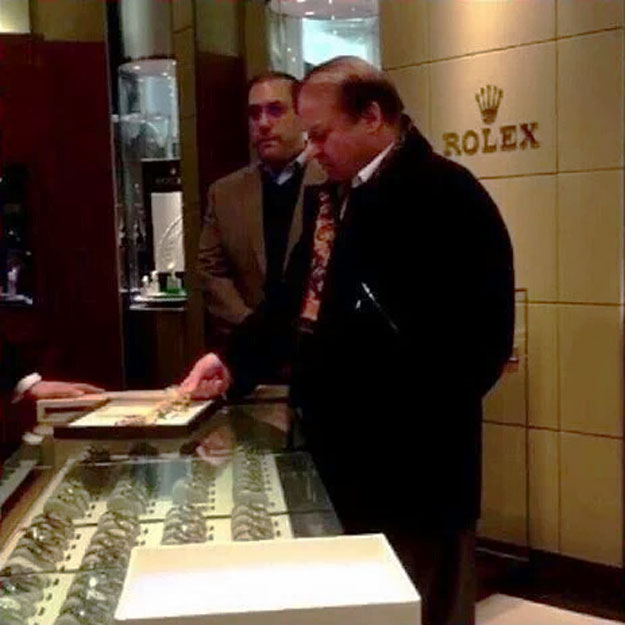 ---
The chorus for resignations and inquiries into ill-gotten wealth may be growing but Prime Minister Nawaz Sharif it seems has simply turned  a deaf ear to them.

Spotted, once again, at a fancy boutique in London, the premier isn't going out of his way to stay out of the news. But as they say, a little retail therapy never hurt nobody.

PM Nawaz departs for London amid Panama Leaks controversy

In the middle of an unfolding scandal over his family's offshore wealth, the premier flew to London on April 13 for what his close aides described as a "medical checkup."

While a video of PM Nawaz at a hospital in London made rounds, pictures of the premier have also surfaced at Scabal, a bespoke tailoring and luxury fabric store, as well as a Rolex outlet at Harrods.

According to reports, the premier along with his son and other staff, went shopping at Harrods and dined at an exclusive restaurant in London.




Earlier, a retail assistant at Scabal had taken to Instagram to post a picture with the premier as he visited the boutique located on London's Savile Row. However, Sander Heyns, the retail assistant, removed the picture from his Instagram page a day later.




Netanyahu cancels dinner reservation at restaurant of Nawaz's choice

It is not known whether and what the premier bought during his shopping trips. However, Prime Minister Nawaz's expensive taste is no secret. In 2013, the premier caused uproar in the National Assembly as PPP's Shazia Marri revealed a PML-N leader wore a $4.6 million watch. ZeeNews of India and other media outlets at the time reported that it was none other than Nawaz Sharif who was wearing the watch, a Louis Moinet "Meteoris" that does indeed fetch a price of $4.6 million.




The premier was also seen at the Saarc Summit last year with a Gucci scarf wrapped around his neck (pictured above). But recent photographs of his expensive shopping habits emerge as the opposition questions the inclusion of his family in Panama Papers – one of the world's biggest tax leaks. Panama Papers have revealed that three of Nawaz's children controlled shell companies through which they owned expensive residential properties in London.

Panama Papers exposé: Opposition divided over demand for PM's resignation

Nawaz has rejected any allegations of money laundering, claiming that his children have legitimate businesses abroad, and has called for the establishment of an inquiry commission.

Before leaving for London for the medical check-up, the prime minister had tasked the finance minister to engage the opposition parties in an effort to build consensus over a mode of investigation into revelations in the Panama Papers that the Sharif family were among dozens of world politicians who had secreted their wealth in offshore holdings.

The timing of Nawaz's visit prompted rumors that he may not return until investigations are complete. But his spokesperson Mussadiq Malik said the prime minister would return to Pakistan early Wednesday as doctors have given him a clean bill of health.

#Rolex has been trending in Pakistan since the picture leaked.


Doctors have recommended a Rolex watch.. 😂😅 bataaao naaa 😕 #MaryamWhereIsPapa pic.twitter.com/FRJdFGOmRM

— Hi-Fi حفصہ (@hafsabutt07) April 19, 2016
At this point, Rolex is a good pick. He himself has to look at it and say, TIME'S UP!!! https://t.co/A246anzWfe

— Alina Shigri (@alinashigri) April 19, 2016
Lets not grudge the PM's love for Rolex watches. Remember how his allegedly many crore watch he was wearing raised hue and cry in NA .

— Farooq Hameed Khan (@FarooqHKhan) April 19, 2016
Some pundits gone wrong. All PM Nawaz Sharif wanted was to buy a few branded suits and a Rolex watch. https://t.co/QbJ1PAPSnR

— Ali Salman Alvi (@alisalmanalvi) April 19, 2016
No one is jealous of hw much expnsive was the #Rolex he bought
we R just interestd in knwing whethr it ws bought frm his own money or ours

— Tania Saleem Palijo (@TaniaPalijo) April 19, 2016


And then there's this gem for some perspective.


Three presidents walk into a Rolex store..."@PakDiplomacy President Gul, President Karzai & President Zardari in Ankara http://t.co/mv1PjE7j

— Omar Waraich (@OmarWaraich) December 13, 2012