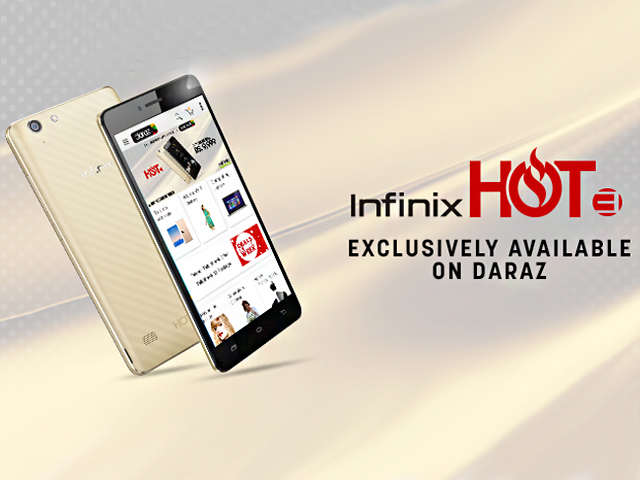 ---
In very little time, Infinix Mobility has made its place amongst the leading smartphone companies in Pakistan and they are all set to further infiltrate the market with the latest addition to their smartphone hits, the Infinix Hot 3, is exclusively available on Daraz.pk, for just Rs 9,999.




The Infinix Hot 3 comes with a gold casing, giving the phone an elegant feel. Despite the light weight structure, the phone boasts a massive 5.5" display with a 720p screen resolution and an HD display rating. The phone also features full-laminate GFF technology for 1.2mm high precision processing, reducing the distance between screen and glass to minimize glare and increase visual clarity.




The phone does not compromise on camera quality, with an 8 megapixel rear camera and a 2 megapixel front camera and other great features including wide angle lens (84 degrees angle) and voice command capability – say 'cheese' and let the phone do the picture taking.




Unlike its predecessors, the Infinix Hot 3 runs on Android 5.1 Lollipop with Infinix User Interface (XUI) features allowing you to have all of your Infinix apps and settings. A Quad-core 1.3GHz processor with a 1GB RAM is an impressive under-the-hood specification for a phone of such a low price. The Hot 3 has an inbuilt 16GB ROM and can support up to 32GB microSD card and a 3,000mAh battery.




Speaking on the occasion, Benjamin Jiang, Cofounder Infinix Mobility says,

"Infinix keeps long-term commitment to deliver world class technology and service to the Pakistani market. HOT 3 stands for the start of the new generation Infinix product line in 2016. It will continue the HOT tradition of premium quality and liability with brand new users' experience."

The Infinix Hot 3 on Daraz.pk is truly #hotnessredefined.

About Daraz

Daraz is the leading e-commerce platform in Pakistan, Bangladesh and Myanmar. The company started in Pakistan in 2012 as an online fashion business, but since then has expanded its business model to a general marketplace for quality brands within electronics, home appliances, fashion and many other categories. Daraz is owned by CDC Group – the UK Government's Development Finance Institution (DFI) focused on supporting and developing businesses in Africa and South Asia – as well as the Asia Pacific Internet Group (APACIG) which supports some of the leading internet companies in the region. Founded by Rocket Internet in 2014, APACIG's mission is to promote innovation and entrepreneurship throughout Asia and the Pacific and to support the development of a vibrant online culture.

About Infinix Mobility 

Since its creation in 2009, Infinix Mobility has become a major player in the mobile phones and tablets market. Avant-garde designs, innovative functions and impeccable quality are just some of the reasons why millions of consumers are attracted to our products every year. At the cutting edge of innovation in the wireless/mobile internet domain, Infinix defies the norms and opens the doors to the future!