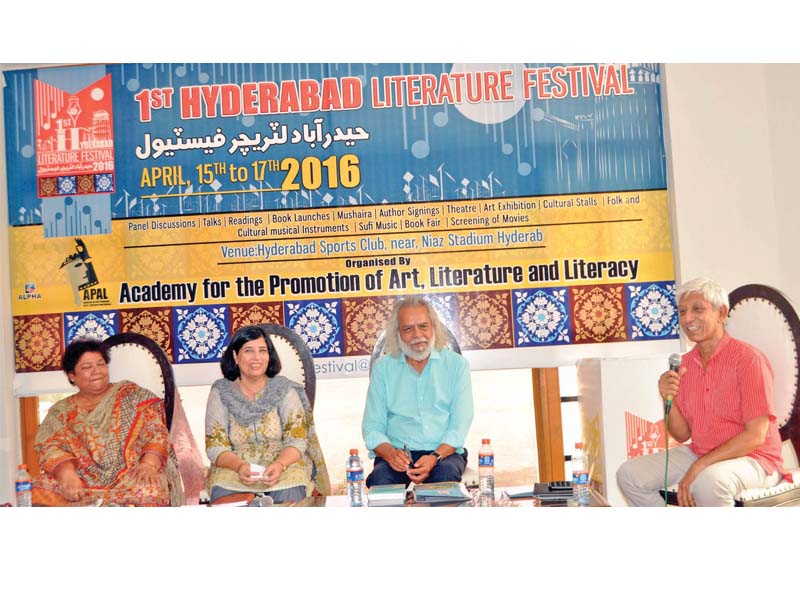 ---
HYDERABAD: The three-day Hyderabad Literature Festival 2016, which brought together writers, poets, intellectuals and experts from various walks of life, concluded on Sunday with a musical night of dazzling performances.

The first event of its kind to take place in Hyderabad witnessed participation of the citizens as well as important literary, intellectual and academic figures. It was hosted by the Academy for Promotion of Art, Literature and Literacy, a budding organisation established earlier this year.




In over 40 sessions of debate encompassing a wide range of topics from literature to history, music to film making and politics to water, over 150 panelists shared their views, memories and experiences. Such festivals are necessary to revive the passion for literature and art, remarked politician, said lawyer Rasool Bux Palijo on the third day of the festival on Sunday.

"We have sold over 500 books [in 3 days] mainly novels, biographies, Urdu literature and translation of Russian novels," said Zahid Babbur of Sindhica Publications.

'Hyderabad, past and present'

The two-and-a-half-centuries-old history of modern day Hyderabad begins with the city's founding as a capital of Sindh's rulers. It, subsequently, drew people from all parts of the province to settle in the city, which was earlier named as 'Nerunkot'. The construction of forts and mausoleums and development of trade centres are seen as significant features of Kalhoro and Talpur dynasties before the British conquest.

"In 1942, Charles Napier [British] emerged as the first person to whom we can attribute the city's destruction," said the art and music connoisseur Naseer Mirza, who moderated a session titled 'Hyderabad, Past and Present' on Friday.

"After Napier, the Hindu migration after 1947 and the ethnic riots of 1980s were the two major blows to the city." The latter events also involved migration of Sindhis from old Hyderabad, he added.

Columnist Dastgir Bhatti recalled the services of Hindus for education and urban development of Hyderabad. He said the Hindus built the schools, many of which stand till this day including public parks and beautiful mansions.

Madad Ali Sindhi, writer and poet, said the references of 1947 and 1980s are inalienable to the history of Hyderabad. "The Kalhoro rulers settled both Muslim and Hindu Sindhis in Hyderabad. Both the communities lived in harmony."

Ishrat Ali Khan, who has written about the history of Hyderabad, said the burgeoning population in the present times is creating problems for the citizens. "The rural cities in Sindh should be urbanised so that the people don't have to migrate to Hyderabad and Karachi." He also stressed on banning vertical developments in the city.

'Water Economy'

Explaining what 'water' means to the people of Sindh, PTI leader Zulfiqar Halepoto said it is one of the most written about subjects in both fiction and non-fiction. "Prose, poetry, drama, translation and politics all can be seen overwhelmed with this subject."

He was speaking on the session, titled 'Water Economy', held on Sunday. Comparing Sindhi literature with Urdu, he argued that the latter only sparsely covers the subject. "I have studied Urdu literature for around last 15 years. But I am yet to find a book which comprehensively discusses water. But Sindhi writers have connected water with life and culture instead of restricting it to irrigation and municipal uses."

The impact of reduced water level in River Indus on crops, fisheries, delta and coast in Sindh was depicted by former Sindh Agriculture University vice-chancellor Dr Rajab Memon. He compared the statistics of crop cultivation between Punjab and Sindh, stating that latter's share in the national production has been reduced over last two decades. "Around nine million acres of land in Sindh can be cultivated, in addition to the existing land, if water shortage can be addressed," he claimed.

Speaking about inter-provincial dispute between Sindh and Punjab over Indus, Halepoto accused Sindh's elected representatives of having failed to fight their case in the federation.

Published in The Express Tribune, April 19th,  2016.