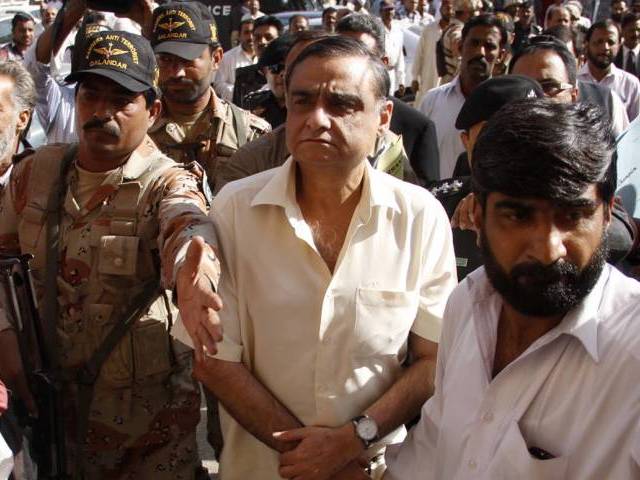 ---
KARACHI: An anti-terrorism court (ATC) sought on Monday a report over the 'evidential documents' allegedly gone missing in the terror facilitation case against former petroleum minister, Dr Asim Hussain.

The ATC-II judge gave directions to investigation officer (IO) DSP Altaf Hussain to submit a report over the issue which has come up as another hurdle in case proceedings. The matter was brought up by Rangers' counsel Rana Khalid in previous hearings as he complained that some data of providing medical treatment to 'terrorists' was removed from the court's record.

The case against Dr Asim, who runs the trust-owned Ziauddin hospitals, pertains to alleged medical treatment of militants while screening them off from law enforcers.




Rangers, being a complainant in the case, provided documents that reportedly revealed the record of treatment of alleged terrorists and names of persons paying their bills, among other things, to the court. The record is said to have been seized in raids from the hospitals when Dr Asim was in Rangers' custody.

At the outset of Monday's hearing, Dr Asim's counsel, Amir Raza Naqvi, pleaded the ATC judge consider the bail application of his client which he filed at a previous hearing. The judge, however, refused and said the application will only be taken up once the matter of missing documents is resolved.

Meanwhile, other nominated co-accused, including Muttahida Qaumi Movement's (MQM) mayor-nominee Wasim Akhtar and ex-minister Rauf Siddiqui, Pak Sarzameen Party's Anis Kaimkhani, Pakistan Peoples Party's Qadir Patel and Pasban's Usman Moazzam, were present inside the courtroom. Only Salim Shahzad, a leader of the MQM, has yet to make it to court.

The court was adjourned following a brief hearing as public prosecutor Ayaz Tunio was on leave in Hyderabad. The judge fixed April 30 for the next hearing and directed the IO to submit the report by then.

One-on-one with media

In an informal talk with the media outside the court, Dr Asim referred to the Panama Leaks as 'Banana Leaks'. Mentioning the sudden departure of the top political leadership of the country, including Prime Minister Nawaz Sharif, to London, he alleged that they have gone to get their names removed from the [Panama] papers. "He [Sharif] will not come back," claimed Dr Asim.

Outside the court, Patel said he set an example by coming back to the country to face charges. "I am the son of a fishermen, I have comeback from across the sea." On a question about his recent 'meeting' with the Rangers, Patel said most of the subjects that came under discussion were sub-judice [so he could not comment].

MQM leaders, Siddiqui and Akhtar, apparently hitting at their former comrade Kaimkhani, said those who were not coming to the court before have started coming now. "Hopefully, the case will settle soon," said Akhtar.

Published in The Express Tribune, April 19th,  2016.