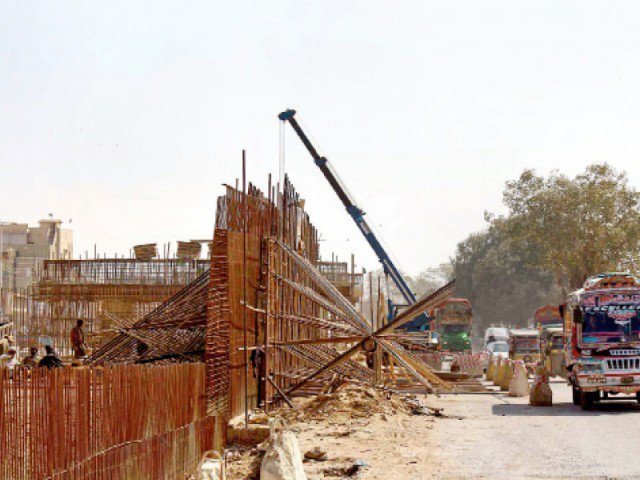 ---
KARACHI:
The construction of the Golimar Underpass will be completed in three months, assured Sindh local government minister Jam Khan Shoro on Monday.
Due to technical reasons and the construction of the Green Line BRT flyover, the construction work of the underpass has been delayed.
According to Shoro, due to illegal appointments in the Karachi Metropolitan Corporation (KMC) the municipality is facing a severe financial crisis. For this reason, he said that the Sindh government was going to give Rs500 million as grant to the KMC.
People suffer amid construction of two development projects
Meanwhile, Karachi commissioner Asif Hyder Shah said that by June 30, the work on the underpass will be completed.
On a question regarding the lack of coordination among the two projects, he said that the underpass has been under construction for the last year and he was not the commissioner then.
Work on the Golimar Underpass had kicked off in April last year. Initially, a flyover was to be constructed at Golimar Chowrangi instead of the underpass.
At the eleventh hour, all the plans were changed and the flyover was converted into an underpass to facilitate the Green Line BRT flyover, which is also supposed to pass over Golimar Chowrangi.
In the span of one year, the underpass has seen three project directors. Initially, KMC's chief engineer, Asadullah Shah, was looking after the project and then Shafiqur Rehman was made project director when Shah was given the charge of KMC's director-general of parks.
Board Office flyover to be knocked down
After that, Noorullah Shaikh was made the project director in December and now Rehman has once again been given the charge.
When the construction work started in April, the Sindh government had released one instalment of the funds with which the KMC officials were able to complete 40% of the work on the project, even though its nature was changed mid-way.
The change in the nature of the project has brought down the construction cost from Rs353 million to Rs345 million. However, the modified PC-1 for the project has yet to be approved by the Sindh government.
Published in The Express Tribune, April 19th,  2016.