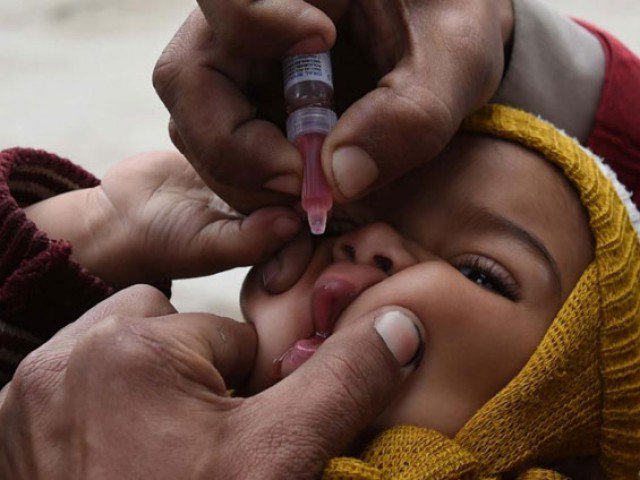 ---
HANGU/ PESHAWAR/ DI KHAN:



Two policemen were arrested for not participating in a polio campaign in Hangu on Friday.




According to Hangu DPO Shah Nazar, two policemen identified as Kishor Alo and Shah Gul, absented themselves from their assigned duties during the three-day polio campaign.

Talking to the media on Monday, Nazar said strict action was being taken against those who were neglecting their duties and Alo and Gul had both been terminated from their services.

"Polio drops are essential for preventing children from falling prey to the disease," he said. The police were cooperating completely since they had been given instructions to support polio staff till the end of the campaign, added Nazar.

A polio drive was launched in several districts of Khyber-Pakhtunkhwa on Monday. High-risk union councils (UC) in various districts were identified where around 3.89 million children under the age of five were to be administered polio drops.

According to data received from Emergency Operations Centre (EOC) K-P, mobile teams have been formed to facilitate the campaign of which 1,014 are fixed, 175 roaming and 588 are transit teams. At least 2,573 people have been made in charge for various areas.

Finishing line

At an EOC meeting on Monday, EOC Coordinator Akbar Khan was quoted as saying the campaign was successfully under way elsewhere with the exception of Torghar, Lakki Marwat and Swabi. Officials quoted Akbar as saying the campaigns there have been scheduled for later in the month.

"We are close to the finish line and need support from parents and cross segments of society to help us achieve the target and give poliovirus a severe blow in the region," a senior health official quoted Akbar as saying.

The districts where polio drive is being carried out include Peshawar, Bannu, Tank, Charsadda, Mardan, Nowshera, Swat, Kohat, DI Khan and Hangu. High-risk UCs were identified in Buner, Chitral, Lower Dir, Haripur, Malakand and Mansehra districts.

Settling scores

Dottani tribe boycotted the drive in South Waziristan Agency on Monday.

The decision was taken at a jirga held in Toi Khulla tehsil of Wana where elders said no campaign will be allowed till the political administration released the tribe's arrested people and restored their suspended privileges.

Bubrak, an elder, told the media, "We decided in a jirga  we will not allow teams in our area until the action taken under Frontier Crimes Regulation (FCR) by the political administration against our tribe are lifted."

He added people in Toi Khulla tehsil were suffering – all businesses, movements and other activities had been adversely affected.

Collective responsibility 

On March 10, the political administration in South Waziristan Agency initiated a crackdown against Dottani tribe after nine people, three employees of FATA Development Authority (FDA) and six locals working for the authority, were abducted from Toi Khulla by unidentified individuals. The abducted workers were on their way to inspecting a small dam, Chuttangi, which was under construction in Zermilan area of Toi Khulla.

During the crackdown, more than two dozen Dottani tribespeople were arrested and all privileges granted to the tribe under territorial and collective responsibilities of the FCR were suspended.

The kidnapped people included FDA employees Aqeeq Bangash, Saifur Rehman and Ghafur, locals working for FDA, Shahid, Nisar, Ashiq and Wasim and two drivers whose names could not be ascertained.

One of the vehicles was also taken by the kidnappers.

Published in The Express Tribune, April 19th, 2016.
COMMENTS
Comments are moderated and generally will be posted if they are on-topic and not abusive.
For more information, please see our Comments FAQ