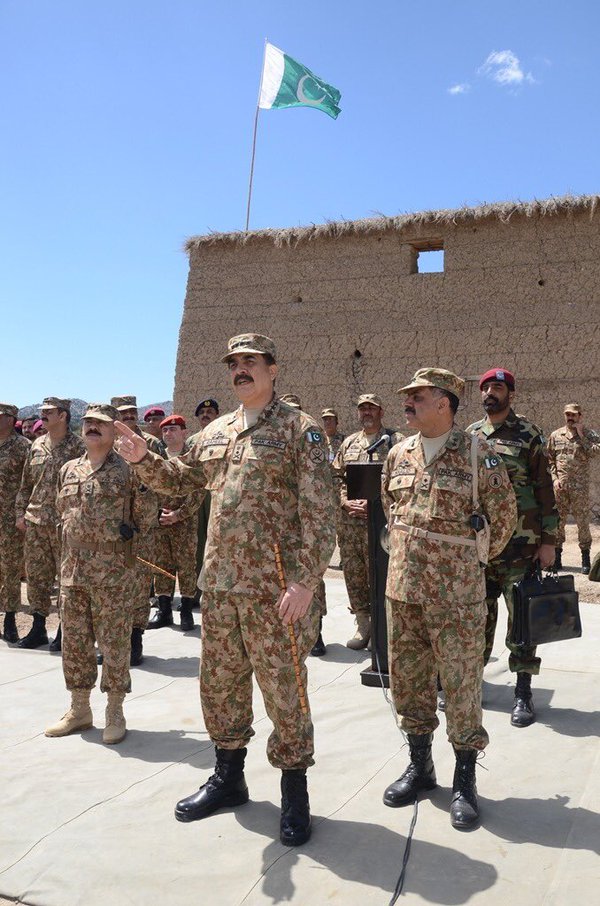 ---
ISLAMABAD: The Pakistan Army has announced the completion of last phase of full-scale military offensive in North Waziristan Agency (NWA) after terrorists were driven out of strategic Shawal Valley.

Army Chief General Raheel Sharif made the announcement while visiting the forward positions in NWA on Monday.

The Inter-Services Public Relations (ISPR) said in a statement that General Raheel lauded the troops for the successful completion of Shawal operation. He acknowledged exceptional achievements, courage, determination and sacrifices of troops in achieving the objectives.

252 militants killed in final phase of Operation Zarb-e-Azb: ISPR

The army chief, however, emphasised on consolidating the gains and resettle temporary displaced persons (TDPs) back in their areas to the best of our abilities.

Talking about breaking the nexus between terrorists and their facilitators sitting outside the Federally Administered Tribal Areas (Fata), General Raheel directed to undertake large scale combing operation immediately to seek out terrorists, their sleeper cells and facilitators in areas other than Fata and enhance reach of the law enforcement agencies.

650 sq km secured in last phase of Waziristan op

Speaking to officers and men while visiting Shawal Valley, the army chief said, "Standing shoulder to shoulder with us, the entire nation highly values the  sacrifices being rendered in this fight against terrorism."

The final phase of operation was launched in Febuary in North Waziristan's deeply forested ravines of Shawal Valley and Datta Khel that had been used by terrorists for infiltration between Pakistan and Afghanistan.

The military's media wing also said since start of the last phase in treacherous terrain of Shawal, more than 800sq-km of area had been secured inflicting heavy casualties on terrorists.
COMMENTS (1)
Comments are moderated and generally will be posted if they are on-topic and not abusive.
For more information, please see our Comments FAQ