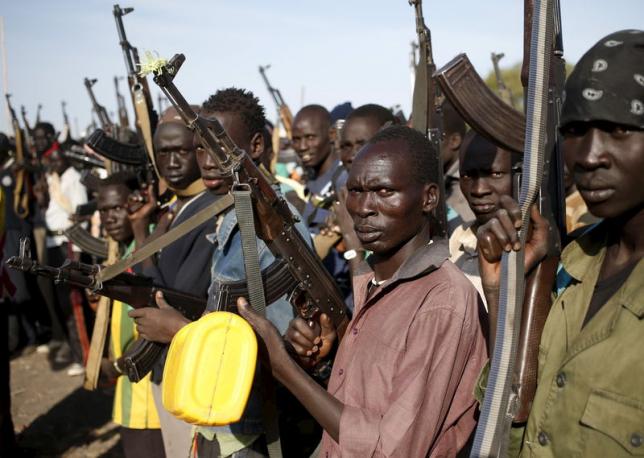 ---
JUBA: UN Secretary General Ban Ki-moon has urged the leaders of war-torn South Sudan to form a transitional government quickly and roll out other parts of a fragile peace deal aimed at ending more than two years of conflict.

Ban made the comments in telephone calls on Sunday with President Salva Kiir and rebel leader Riek Machar, who is due to return to Juba this week to take up his former post as deputy to the president.

Thousands have been killed and more than two million people in a nation of 11 million have been driven from their homes by more than two years of fighting that erupted at the end of 2013,barely two years after South Sudan's independence.

Kiir's decision to sack Machar as his deputy in 2013 precipitated the crisis that erupted into conflict in December that year. Fighting has often run along ethnic lines, pitting Kiir's dominant Dinka ethnic group against Machar's Nuer.

After protracted talks, Machar and Kiir signed a peace deal in August that called for a transitional national government and other security arrangements to end the fighting. But clashes have frequently flared outside the capital since then and Machar has repeatedly delayed his return.

Machar, due to be sworn in on the day he returns as First Vice President, had been scheduled to arrive in Juba on Monday. But a spokesman for his opposition group told Reuters his return had been postponed till Tuesday, citing logistical issues.

In his call with Kiir, Ban praised the decision to welcome Machar back and "called for the expeditious implementation of the security arrangements" including withdrawing Kiir's SPLA troops from Juba.

Ban welcomed Machar's decision to return and "urged him to work with President Kiir to prevent any further violence." He urged both "to quickly form the Transitional Government of National Unity, as a crucial next step in the peace process." The conflict has hammered the economy of what was already one of Africa's poorest nations.

Oil exports - the government's main source of revenues that are suffering from weak global prices - have tumbled and the currency has plummeted in value. Swathes of the country are struggling to find enough to eat.
COMMENTS
Comments are moderated and generally will be posted if they are on-topic and not abusive.
For more information, please see our Comments FAQ