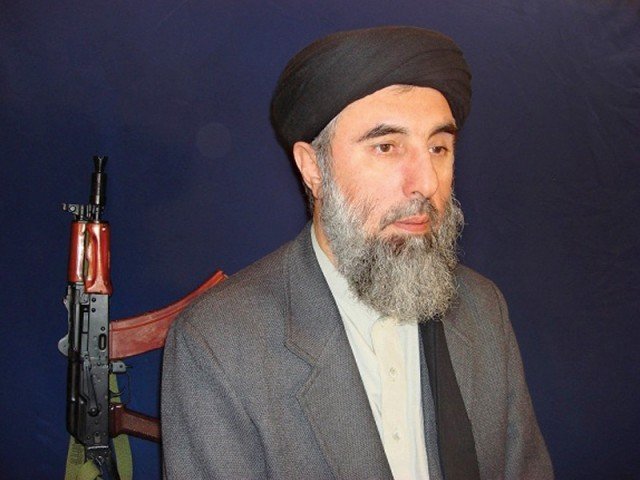 ---
ISLAMABAD:



The Hizb-e-Islami Afghanistan (HIA) wants the name of its chief, Gulbuddin Hekmatyar, removed from the UN and US sanction lists for peace talks with Kabul to progress, a senior leader of the group said on Sunday.




Ghairat Baheer, the head of HIA's political committee, confirmed to The Express Tribune on Sunday that de-listing of Hekmatyar from the global blacklists was among the 25 demands it is discussing with Afghan officials.




The United States and the UN Security Council had designated Hekmatyar as a global terrorist in 2003 for his alleged links with former al Qaeda chief Osama bin Laden and the Taliban.

Baheer added that the group also wanted the names of two other leaders, Abdullah Nowbahar and Abdul Saboor, removed from the blacklists. The pair was designated as global terrorists by the US State Department last month.

Deputy presidential spokesman Dawakhan Minapal confirmed the HIA has discussed this demand during meetings with the Afghan High Peace Council. The demand follows a similar precondition set by the Taliban for joining peace talks.

Meanwhile, Abdul Khabir Oqchun, the deputy head of the Afghan High Peace Council who has been leading talks with the HIA in Kabul for the past month, has expressed satisfaction over progress in negotiations.

Council officials say both sides have reached an understanding on around 70 per cent of issues, while discussions continue on the rest.

Hizb-e-Islami wants Afghan government role

While Baheer refused to give details of other issues which the group's two-member team has discussed with the council, The Express Tribune has learnt that the HIA and the Afghan government have discussed the possibility of the group joining the National Unity Government.

"Both sides have proposed formation of a joint commission to mull over HIA's share in the government," a source said, adding that President Ashraf Ghani has invited Baheer to Kabul for talks with his senior aides.  "The decision on whether Baheer will visit Kabul will be made by Hekmatyar," the source added.

Taliban await results of spring offensive

The Taliban, meanwhile, are waiting for 'some results' of their recently announced Spring Offensive before reviewing the group's policy on peace talks.

The group, which refused to sit across the table with Afghan officials until its preconditions are met, has yet to engage with the Afghan government in direct talks. This is notwithstanding the fact that the UN has lifted international curbs on over a dozen Taliban leaders.

People aware of consultations in the Qatar-based Taliban political office suggest there is no possibility of the group immediately changing its policy on the peace talks till 'some results' emerges from their spring offensive.

Published in The Express Tribune, April 18th,  2016.