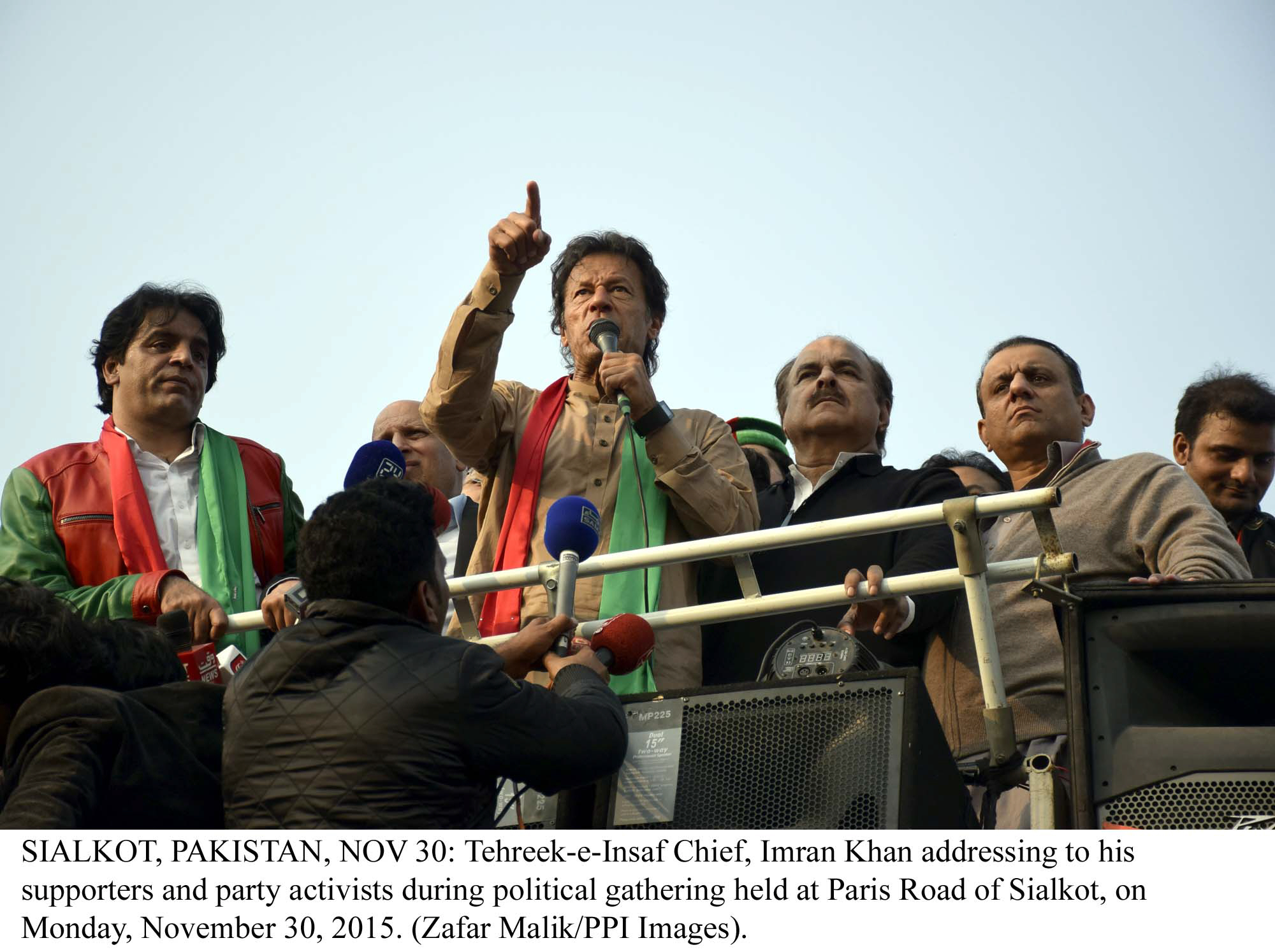 ---
"Pakistan is witnessing a defining moment in its history after the Panama Papers expose," Pakistan Tehreek-e-Insaf Chairman Imran Khan said on Sunday.

"We must take advantage of this opportunity and hold our politicians accountable," he said while addressing the Pakistani diaspora in Birmingham, UK.

Imran has been mounting pressure on the government to order an independent judicial inquiry into revelations in the Panama Papers that three scions of the ruling Sharif family had offshore holdings. "Prime Minister Nawaz Sharif is accusing others of corruption instead of replying to the Panama leaks," the PTI chief said.

Imran Khan demands commission headed by CJP to probe Panama Papers revelations

He alleged that a tainted prime minister could not end money laundering and corruption nor could he ask countrymen to pay their taxes. "Sadly, sycophants are coming up with justifications while the Panama leaks should have set a precedent in the fight against corruption," he added.

Referring to his party's government in Khyber-Pakhtunkhwa, the PTI chairman said the federal government should put in jail if any PTI minister was found involved in corruption. "If there are proofs of corruption against anyone, he should be arrested," he added. "The government is trying to blackmail me."

Imran said his party has given the government an opportunity to order a probe led by the chief justice of Pakistan – "but the prime minister is opposing such an inquiry".

Govt trying to blackmail opposition, says Imran

The PTI chairman said he has met three London-based law firms investigating offshore accounts. "A country suffers economically if funds are transferred abroad through money laundering. Institutions are undermined and people are compelled to go abroad in search of greener pastures," he added.

While Imran took the government to task over the Panama Leaks, PML-N workers staged a demonstration outside the residence of his former wife Jemima Marcelle Goldsmith in London.

The demonstrators, led by the president of PML-N UK chapter, chanted slogans against the PTI chief for using 'fundraising in England' allegedly for wrong purposes.

Postponed intra-party polls in buildup to Raiwind protest: Imran

Imran reportedly was present at Jemima's house at that time and he then immediately left for Birmingham. Consequently, Jemima called the Metropolitan Police to disperse the protesters.

Published in The Express Tribune, April 18th,  2016.
COMMENTS
Comments are moderated and generally will be posted if they are on-topic and not abusive.
For more information, please see our Comments FAQ