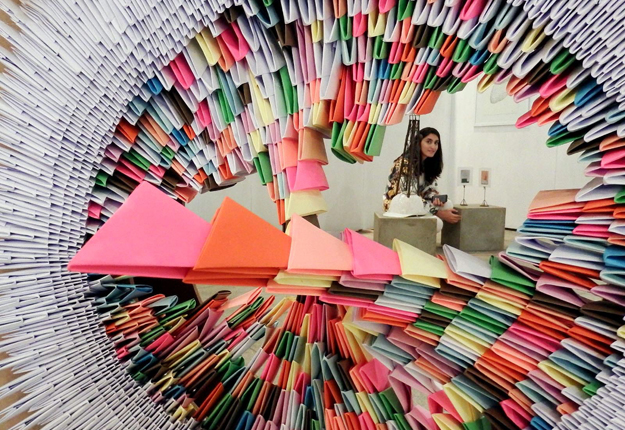 ---
ISLAMABAD:



As the three-day Islamabad Literature Festival came to an end on Sunday, some praised the debate and content the event generated, while others criticised the organisers for their choice of venue.




The closing ceremony reflected some of the latter's grievances, as the Faiz Ahmed Faiz Open Air Theatre — the only place that could accommodate the number of people wanting to attend the festival draws — was closed due to rain, and the organisers were left running around trying to manage people hoping to attend.

The closing ceremony was moved to the Lok Virsa heritage library, which ended up resembling a can of sardines.




With all the organisers trying to put hash together something at the last minute, the ceremony was poorly organised to say the least, as clearly no consideration had been given to weather conditions.

But as Ameena Saiyid, the managing director of Oxford University Press, in her closing speech said "every end comes with a new beginning".

She said that though the festival was coming to an end they were already working on planning next year's literature festival, where they will publish 50 books to mark Pakistan's 70th independence anniversary.

"We have tried to give a voice to people. During the past three days we've launched, discussed and critiqued a number of books".

"I believe the authors deserve to be treated as rock stars and I saw that happening in the literature festival," she added.

Festival cofounder Asif Farruki said that the time to part ways had come.

"I keep wishing for more. But this goodbye is calculated and limited. Festivals celebrating books never come to an end. It depends on what we take from them," he added.

He said that when he had floated the idea of holding a literature festival in Islamabad five years back people were critical. "They said people in the city would sleep by 10, but we have seen that there are a few who clearly do not sleep early in the city".

"We tried holding it at D-Chowk as a dharna...but a literary dharna, for everyone", he joked.

In his keynote address, Christophe Jaffrelot, a French political scientist specialising in South Asia, said that this place where we discuss our ideas and thoughts.

Speaking about his book, The Pakistan Paradox: Instability and Resilience, he explained that Pakistan was of interest to a number of countries.

"Pakistan lies on the crossroads of communism and the free world," he added.

The second keynote speaker in his address stressed that we need to find strength from the words of the scholars who lived before us and who still bind our generations together.

The ceremony ended with a Sufi night, where performers from all the provinces representing Pakistan's diversity were on show. Artists from Gilgit-Baltistan, Sindh, Punjab and Balochistan recited Sufi poetry.

Published in The Express Tribune, April 18th,  2016.