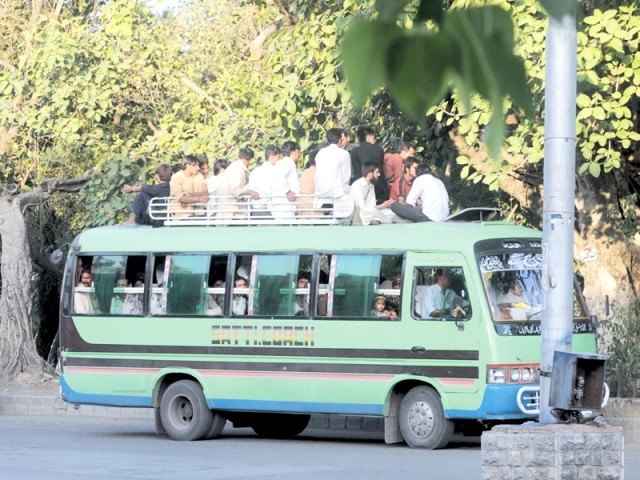 ---
PESHAWAR:



Although the railways ministry refuses to provide land for the Rapid Mass Transit project, the provincial government will go ahead with plans to run 100 buses on the city roads.




The vehicles will be a breath of fresh air on the city's overburdened roads which usually cater to smoke-emitting public transport.

According to officials, around 100 buses will start transporting passengers by the end of 2016. They said city roads are overburdened and old buses plied on different routes. The officials said passengers were confronted with numerous problems.

Services currently run between the General Bus Stand and Hayatabad. Another route is between General Bus Stand and Karkhano Market.

Officials added only one route has been specified for this project.

Public transport for all?

Regional Transport Authority Secretary Naimatullah Khan said, "This is solely a government project and handled by the development section of the transport department." He added Trans-Peshawar, a private company, will manage its affairs.

"Yes, the government will announce an official fare and there are high chances it will be subsidised," Naimatullah stated.

"We plan to start this service by the end of 2016 and the provincial government will allow 100 buses to carry passengers between the General Bus Stand and Karkhano Market in the first phase," Traffic SSP Sadiq Baloch told The Express Tribune.

He said the National Logistics Company was carrying out maintenance work on main GT Road and service lanes have been blocked due to this. The policeman stated the service will be launched as soon as road works are completed.

He stated maintaining traffic is a big task and some 1,100 traffic policemen are at hand to maintain the flow on roads of the capital. He added at least 72 CCTV cameras are installed to monitor the traffic situation.

Breaking on red

"People really need to be educated on traffic rules and the department has been utilising all its resources to holding sessions for this purpose in different areas," said Baloch. He added even educated people do not follow instructions.

Traffic violations were not a Peshawar specific issue and even the federal capital faces such issues, argued the SSP. According to Baloch, traffic police never hesitate to fine violators regardless of their positions or power in society.

"We have confiscated a large number of 'fancy' number plates and even penalised people such as legislators for tinted car windows." The SSP stated the department keeps records, on pen camera videos, to be produced as evidence in court if needed.

Parking spots

When asked about parking in the provincial capital, Baloch said the matter is the responsibility of the district administration. However, he did reveal plaza owners have been given the deadline of a month to make arrangements for parking otherwise the buildings would be sealed. He said one plaza owner made arrangements for 100 cars and others are taking similar steps ahead of the deadline.

Currently, around 10,000 taxis and over 12,000 rickshaws carry passengers in the provincial capital where 0.7 million vehicles enter and exit on a daily basis, adding to the already polluted environment. Peshawar is considered one of the 20 most polluted cities across the world.

Some 19 years ago, GTZ, a non-governmental organisation, established the Vehicle Emission Testing Stations (VETS) in the provincial capital.

VETS Manager Pir Zubair Ali Shah said they have eight units at the divisional headquarters and a total of 12 units throughout the province. He added they could check 250 vehicles on a daily basis which was just a tiny fraction of the 0.7 million automobiles coming in and going out of the city. "This will hardly have an impact on the environment."

Published in The Express Tribune, April 18th,  2016.
COMMENTS
Comments are moderated and generally will be posted if they are on-topic and not abusive.
For more information, please see our Comments FAQ