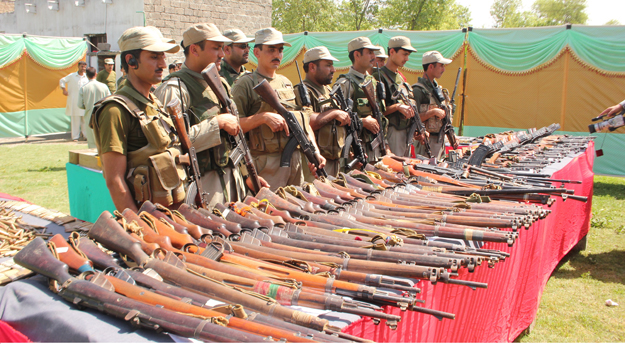 ---
JAMRUD: A large cache of weapons was seized by Swat Scouts during a search and strike operation in Mullagori area of Jamrud, Khyber Agency on Sunday.

Scouts of Swat wing 214 raided houses in Mullagori tehsil and seized 73 weapons, including 30 Kalashnikovs and 10 pistols. At least 16,000 rounds of ammunitions were seized from empty houses.

Speaking to the media at Pump House in Jamrud, Captain Sayem, who led the raid, said weapons were concealed in the soil as well. He added the search operation was carried out in Lora Miana, Marbal Chowk and Sokri areas of Mullagori tehsil following an intelligence tip-off.

"An operation against militants in Khyber Agency is also taking place and our personnel are fully trained to fight terrorists," he said. "Last week, a militant was apprehended in Jamrud."

Sayem said the political administration coordinates with law-enforcement agencies to carry out crackdowns.

"This has been helpful for Swat Scouts," he added.

Two months ago, elders of Kokikhel tribe had announced people would be allowed to carry only one registered weapon. The decision was taken with the consent of political administration and security forces. The elders decided anyone caught with more than one weapon will be taken into custody.

The rule initiated by the tribe is likely to be imposed in other areas as well.

Published in The Express Tribune, April 18th,  2016.