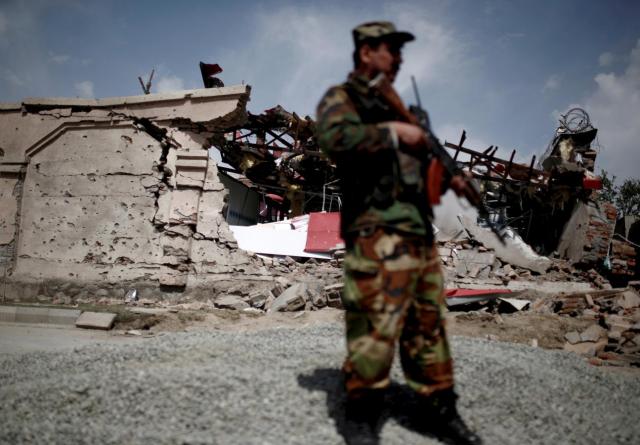 ---
KUNDUZ: Afghan forces fought back a renewed series of attacks on Kunduz, killing dozens of Taliban fighters, officials said on Sunday as insurgent forces stepped up their bid to retake the northern city that they captured briefly last year.

The attack on Kunduz, involving hundreds of insurgent fighters, has intensified just days after the Taliban announced the start of their annual spring offensive, aimed at driving out the Western-backed government in Kabul.

Afghan officials say Taliban driven back in Kunduz fighting

The Taliban's brief capture of Kunduz last year underlined both their growing strength and the lack of readiness of Afghan security forces fighting largely on their own since the NATO-led international coalition ended its combat operation in 2014. .

Attacks overnight appeared aimed at cutting off Chardara district on the southwest outskirts of the city, which insurgents used as a base in last year's attack, with several checkpoints targeted, Kunduz police chief Qasim Jangalbagh said.

"They wanted to cut the road which connects the district to Kunduz city to stop us sending reinforcements," he said. In addition, he said a major attack was driven back at Charkh Ab, to the east of Kunduz, as Taliban forces sought to stretch the city's defences.

Afghan forces repel Taliban in Kunduz as spring fighting begins

Casualty estimates provided by Afghan officials varied slightly, with Kunduz police saying 49 Taliban fighters had been killed and another 61 wounded, while the defence ministry said 38 were killed and 13 wounded over the past 24 hours. A police spokesman said four members of the security forces were killed and 11 wounded.

Kunduz public health director Saad Mukhtar said six dead and 107 wounded had been brought to city hospitals over the past three days, which have been put under heavy strain by the destruction of the hospital run by aid group Medecins Sans Frontieres in a US air strike last year.

The heavy fighting around Afghanistan's fifth-biggest city underlines the concern highlighted in the United Nations' latest report on civilian casualties, which pointed to a sharp rise in the number of children killed or injured as a consequence of combat in built-up areas.

Pakistan renews talks offer to Afghan Taliban

The fall of Kunduz last year followed months of attacks that began in the spring. The attacks weakened security forces before Taliban fighters seized the city centre at the end of September, holding it for two weeks before pulling out.

However, officials have made a major effort this year to reassure residents that there would be no repeat of last year's demoralizing collapse, which prompted thousands to flee to city.

Although heavy fighting continued over the winter months in Afghanistan, notably in the southern province of Helmand, the approach of warmer weather is likely to bring an increase in operations in the north of the country as snow clears.
COMMENTS
Comments are moderated and generally will be posted if they are on-topic and not abusive.
For more information, please see our Comments FAQ