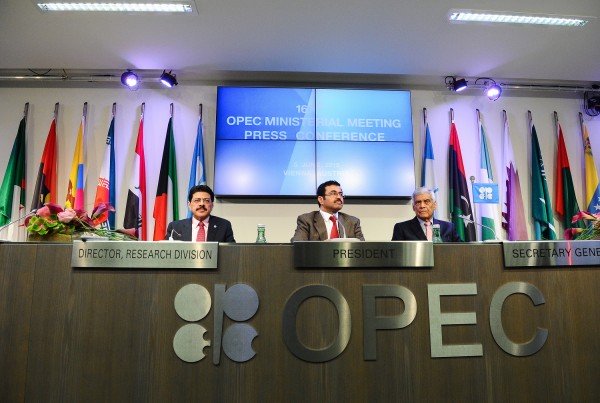 ---
DOHA: World oil producers gathered in Qatar on Sunday to negotiate an output freeze to boost prices but a lingering dispute between crude kingpin Saudi Arabia and Iran threatened to overshadow the talks.

Tehran said it was not sending any representative to Doha after Riyadh vowed it would not sign up to an output freeze unless regional adversary Iran did likewise.

Sunday's meeting in the Qatari capital gathered about 15 countries, mostly members of the Organization of the Petroleum Exporting Countries, led by Saudi Arabia, and as well as some non-OPEC producers such as Russia.

The producers want to freeze production at January levels in order to curb oversupply until demand is expected to pick up in the third quarter of 2016.

Oil trades cautiously ahead of crunch producers' summit

Although Saudi oil minister Ali al-Naimi arrived in Doha on Saturday, his Iranian counterpart Bijan Zanganeh stayed in Tehran.

Iran had said its OPEC representative would participate in talks but Zanageh on Sunday announced that it would send no delegation at all, further denting prospects for a deal.

"The Doha meeting is for people who want to participate in the production freeze plan... but since Iran isn't expected to sign up to the plan the presence of an Iranian representative isn't necessary," Zanganeh was quoted as saying by the Shana news agency.

Iran is committed to increasing its output to levels reached before it was slapped with Western economic sanctions over its disputed nuclear programme.

How Pakistan can benefit from depressed oil prices

"Iran will in no way give up its historic production quota," Zanganeh said.

Influential Saudi deputy crown prince Mohamed bin Salman reiterated in an interview with Bloomberg published on Saturday that the kingdom would not accept a freeze without Tehran's cooperation.

But Kuwait oil expert Kamel al-Harami said a freeze agreement on Sunday is still possible even without Iran.

"Iran is unable to add more than 500,000 barrels per day (bpd) to its production by the end of the year," Harami told AFP in Doha.

"I believe this will not greatly impact the meeting," he said.

OPEC said on Wednesday that Iranian oil production in March was 3.3 million bpd, up from 2.9 million in January, but still short of its pre-embargo level of around 4.0 million.

OPEC said its members pumped 32.25 million bpd in March -- with Saudi Arabia accounting for nearly a third -- up from an average of 31.85 million bpd in 2015.

Host country Qatar said "an atmosphere of optimism" spread on the eve of the meeting, and Kuwait's acting oil minister Anas al-Saleh told reporters on arrival in Doha that "he was optimistic" about the success of the conference.

Oil prices tumbled on Friday as traders bet that the meeting in Doha will yield no effective measures to curb the global oversupply.

"Expectations are just so low that OPEC and non-OPEC producers will do anything with significant details attached to it," said Andy Lipow of Lipow Oil Associates.

On Thursday, the International Energy Agency warned against over-expectation for the Doha talks, saying that the meeting would have only a "limited" impact on supplies.