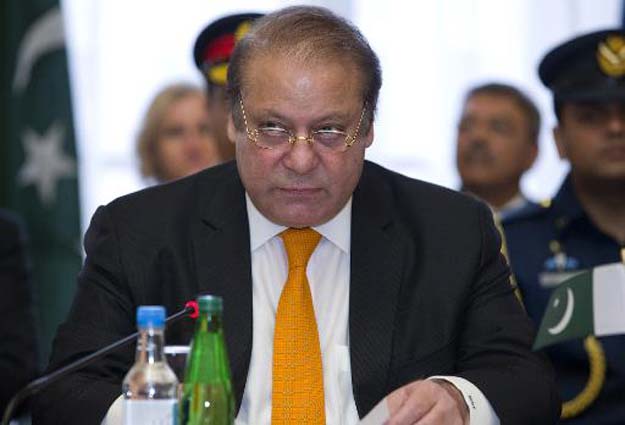 ---
Let's work through the logic.

There are three things that can happen with the ongoing Panama Leaks issue: One, nothing will happen. Two, everything will happen. Three, something will happen.

Now let's decipher.

The first option is backed by the weight of history. Many scandals led to many outcries which led to many commissions which led to … nothing. Weak investigations, weak investigators, weak prosecution, weak political will and a weak resolve to carry the scandal to its logical end are some of the prominent factors that leap to mind when scanning the past. Sadly all these factors still retain their potency. Sadly we have learnt little from the past. If the Panama Leaks Commission also goes the way of its many predecessors, this first option will manifest itself in all its inglorious glory.

The second option is nuclear-tipped: the government goes home, or the Prime Minister goes home. This is Imran Khan's objective and it entails piling so much public, political and moral pressure on the Sharifs that they are forced to step down. Then either mid-term elections are called or the ruling party elects a new prime minister.

Pakistani people will have to decide whether Nawaz should resign: US

There is another sub-option linked to this one: the government itself calculates it's in its interest to call snap elections and get a fresh mandate. This calculation may hinge on the fact that snap elections will catch the other parties unprepared and the PML-N romps home with another five-year mandate.

The third option is steeped in optimism bordering on the unreal: A potent commission is formed, proper investigations are conducted, a water-tight legal process unfolds, actions are taken shorn of politics, government is chastised and learns the right lessons, agencies like the FIA, NAB, and the FBR are reformed and the democratic project is strengthened instead of being damaged.

There is, however, a difference between what "can happen" and what "should happen".

Panama Leaks may have exposed many an offshore account, but the scandal has yet again exposed the deep fault lines within Pakistan's politics and governance. As long as the outrage over Panama Leaks keeps revolving around the "Get Nawaz" campaign, it will remain a politicised affair whose outcome may ultimately be decided on political and not legal grounds. At this stage, the scandal reeks of politics whose end objective is not to get rid of the rot within the system but to get rid of the man atop the system. If this were to eventually happen, it may benefit the opposition but it will not benefit the country as a whole.

Except if it does. And there is only one proper way to do so: prove legally that a wrong has been done and that wrong implicates the top man. Proving this would entail a thorough professional investigation into the allegations. It will entail following the money trail, establishing how and when it was sent abroad and which laws were violated when and by whom. Such an investigation would expose the deep structural weaknesses within the system and expose inadequacies of state institutions like the FIA, NAB, the FBR and the police. It would also lay bare the thorough incompetence of the State in combating white-collar crime. In fact, the findings if done properly may go a step further and show to us not just how incompetent our officialdom is in such matters, but how it is often complicit in these crimes.

Panama Papers: Opposition may band against govt, says Aitzaz




This however can only happen if we tackle the Panama Leaks as an indictment not just of one man, or one family, but of a system that has been used and abused for decades by the rapacious elite to amass fortunes. But what to do when the rapacious elite themselves are the ones mandated to reform the system? What to do when the system — rot and all — is held hostage to the whims of those who benefit from the rot? Is there anybody who does not know the blatant inadequacies of the system? Is there anyone who is not aware of the limitations of the FIA, NAB, the FBR and the police as long as these state institutions remain subservient to the whims of their political bosses? Is there any sane thinking Pakistani who has not called for a thorough reform of these institutions?

And yet the rot persists. Despite exposes, despite scandals, despite the daily failings, this rot persists.

But we are so fixated on individuals that our approach bypasses the larger picture. Yes the corrupt must be brought to book, yes the tax dodgers should be netted, yes the law violators should be apprehended, yes the white-collar criminals should be jailed, but all this is better done through an institutional process instead of a politicised assault.

Judicial panel will not limit itself to Panama leaks, says Shahbaz

And yet once again the political leadership is setting itself up to fall into a familiar trap. Imran Khan's strategy is banking on finding forensic experts and marching to Raiwind; the PPP is hemming and hawing about some parliamentary committee because it can hear the sounds of skeletons rattling in its own cupboard, the MQM is busy fighting its own war with Mustafa Kamal, and the Jamaat-e-Islami finds itself knee deep in a corruption scandal in Khyber-Pakhtunkhwa. It's a hotchpotch of a whole lot of political mumbo jumbo aimed at snatching whatever political benefit is snatchable.

Nothing could be more unfortunate at a time when Pakistanis are expecting the democratic project to start delivering dividends. The Panama Leaks scandal will play itself out at some point, but before it reaches its conclusion it may have taken some scalps with it. But scalps matter far less than lessons learnt. And lessons learnt only really matter if they are acted upon and things are set right. None of this appears to be happening at this stage. We are sliding down a familiar path to nowhere, scratching and clawing at opponents in a bid to bring them down while the system slowly rots away in the background.

Here then is the real tragedy of Panama Leaks: what can happen may happen, but what should happen may not. Guess who's the real loser in this game.

Published in The Express Tribune, April 17th, 2016.

Like Opinion & Editorial on Facebook, follow @ETOpEd on Twitter to receive all updates on all our daily pieces.
COMMENTS (13)
Comments are moderated and generally will be posted if they are on-topic and not abusive.
For more information, please see our Comments FAQ