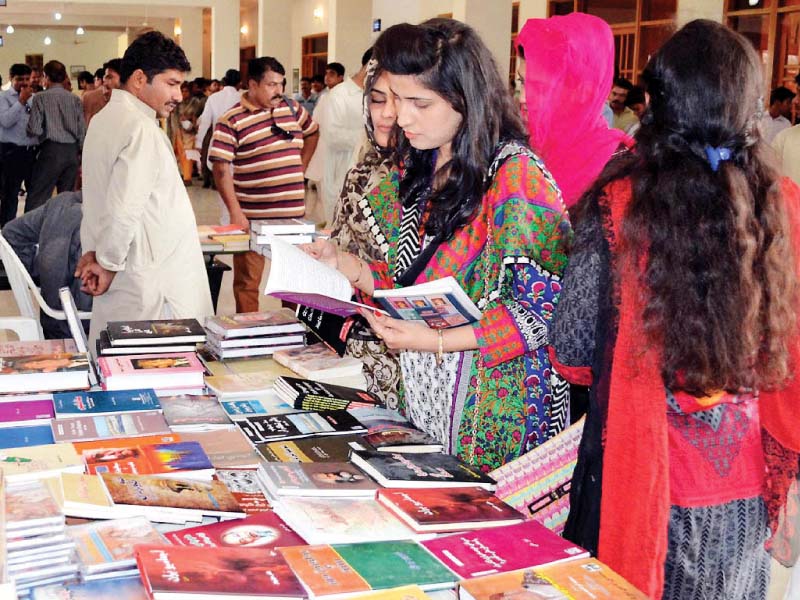 ---
HYDERABAD:



The 1st Hyderabad Literature Festival, 2016, spotlighting genres of Sindhi literature, poetry and filmmaking, began on Friday, drawing hordes of literary aficionados.




The festival kicked off with a discussion with scholar Amar Jalil conducted by Dr Arfana Mallah, a Sindh University teacher and rights activist. Responding to the moderator's query on comparing Sindhi literature of the 1960s and 1970s with the one in the present era, Jalil said, "I feel appalled and sad". He likened the existing quality of literary works with 'stagnant water'.

Nonetheless, he expressed hope for a revival if activities like this festival can be frequently organised in the entire province. "We need to provide healthy activities to the people to drive them away from the menacing extremist tendencies," he said.

Children's Literature Festival to offer food for thought this weekend

He went on to blame Sindhi writers of the last few decades for indulging in attrition against their peers instead of engaging in constructive criticism.

According to Jalil, similar has been the case with the deteriorating healthcare and education in Sindh. "The long boot hasn't closed any schools or hospitals [in Sindh]," he said, apparently alluding to the military. "It's our own Sindh[i] people."

Tribute was also paid to writers Agha Saleem and Momin Bullo, who died this year, at the event.

That time of the year: Lok Virsa all set to host literature festival

Poet and poetry

At a separate session, Haleem Baghi, an elderly notable poet, lamented that contemporary poets are shorn of sensibility and depth of thought. "Our poetry was inspired by these feelings," he said. "Although we did borrow ideas from predecessors and contemporary poets, we also had our own and [the ones] which we created."

Baghi read one of his famous couplets: Gulan je mausam kaliyoon na aandiyoon, bahar aanda putan ja lasha [Season of flowers didn't sprout buds, spring brought the bodies of our sons].

Another poet, Khalil Kunbhar, said that compassion and empathy and associating oneself with the prevailing travails of an era help produce depth in poetry.

A grand festival

The Hyderabad Literature Festival featured a gamut of 40 sessions on diverse topics, encompassing literature, poetry, novel, film and other issues.

The three-day event was arranged by a Qasimabad-based fledgling organisation, Academy for Promotion of Art, Literature and Literacy, which was established earlier this year. The sessions were staggered in three, taking place simultaneously in as many halls of Hyderabad Club.

Bookstalls of several publication companies and non-governmental organisations were also set up.

Literature of resistance

Speakers at another session reflected on how, like other genres of literature, writings motivating political resistance are also at a low ebb. Prof Aijaz Qureshi recalled the eras from One-Unit System to Ziaul Haq's regime, when towering figures like Hyder Bux Jatoi, Shaikh Ayaz, Qazi Faiz Ahmed and GM Syed stirred the masses.

"We find a large influence of literature of resistance from the period of British imperial occupation of Sindh to early decades of Pakistan," he observed, while speaking at the session moderated by journalist Nisar Khokhar.

Writer Ali Ahmed Rind said Jatoi coined the 'Jeay Sindh' slogan in the 1960s, which created a huge agitation. "It was the time when people began to write Sindhi after their names."

Ayaz's poem, Sangram, during the 1965 war discouraged the people of Sindh from participating in the war against India. The late poet underpinned his poetic argument with the shared language and culture on the other side of the border in Rajasthan. "He was punished and imprisoned in Sahiwal jail," recollected Rind.

Leftist intellectual Bakshal Thalho said the literature of resistance had always stemmed from movements of resistance. "Now, we neither have such characters [who lead such movements] nor, consequently, the writers," he lamented.

Sindh in British Period

Historian and former provincial education minister Dr Hameeda Khuhro said that imperial rule over Sindh adversely affected the culture and social trends in the province. She was speaking at another session at the festival.

"The British replaced thousands of years old Sindh with an imperial one," she said, adding that their purpose of imparting education then was to produce staff who can work for their interests.

According to writer Mansoor Qadir, the irrigation and railways system as well as modern education and the arrangement of the Sindhi alphabet are some of the contributions of the British. "On the other hand, their oppression is also undeniable," he said.

Published in The Express Tribune, April 17th, 2016.
COMMENTS
Comments are moderated and generally will be posted if they are on-topic and not abusive.
For more information, please see our Comments FAQ