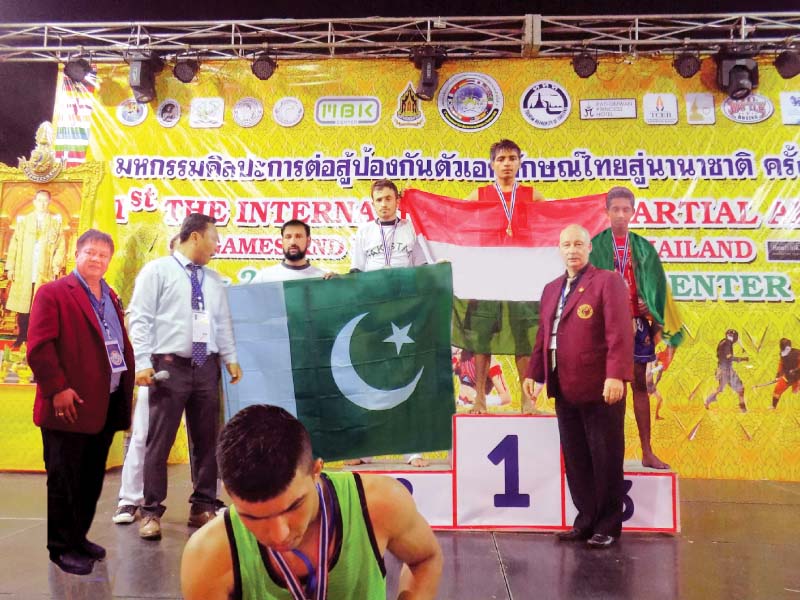 ---
ABBOTTABAD: Pakistan Muay Thai Federation President Abid Khan did not receive funds from the provincial government to take his team to Thailand for the MAC Games World Championship 2016. He was left with no choice but to sell the jewellery that belonged to his family to bear the expenses.

His sacrifices and efforts paid off and the team managed to clinch two medals in the championship.

GCU sports: Physically-challenged students shine at opening ceremony

While speaking to The Express Tribune, Abid, who hails from Abbottabad, said his team, the Muay Thai National Team, actively participated in the event which was held in Bangkok in March. His team comprises two players – 20-year-old Tabariq Ali and 15-year-old Bilal Ahmed.

"Although I failed to get my right from the government, my commitment was rewarded by my team's performance," he said. "It is, no doubt, the pride of my country."

According to Abid, neither the sports board nor the provincial government agreed to bear the expenses of his team's visit to Bangkok.

As a result, he was forced to sell his personal assets.

"How can I compromise the future of my players who prepared themselves after hectic training?" Abid said, "I approached one my close friends and borrowed some money [from him] to cover the shortfall that I had despite selling my family's jewellery."

He added the commitment and diligence of his players helped him hoist the Pakistani flag on the victory stand.

Among players from 42 countries, Ali, 20, won silver medal in the senior category, while Bilal won a bronze medal in the junior category.

"My team also participated in Muay Thai championship in 2015 and performed well," he said. "But the sports authorities have not yet cleared dues amounting to Rs500,000."

Competitive spirit: U-23 Games kick off in DI Khan

Abid said he was currently running a four-month camp for players in Abbottabad and the expenses are more than Rs250,000. He added, "I am bearing the expenses with the support of philanthropists and friends."

According to Abid, his team will compete in the World Muay Thai Championship which would be held in Sweden. He urged the provincial and federal governments to extend financial support for this purpose.

Published in The Express Tribune, April 17th, 2016.